Decimal Addition & Subtraction Worksheets
Add and subtract decimals with tenths, hundredths, and thousandths place values.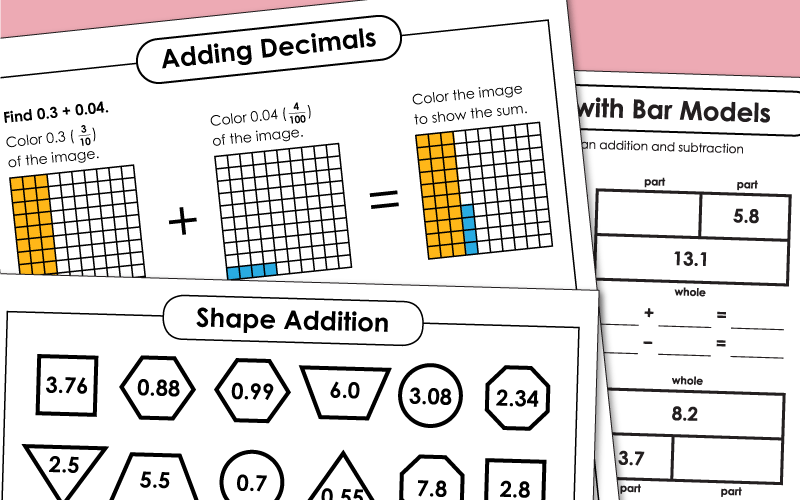 This page contains a dozen decimal addition problems with numbers that include a thousandths place. Students re-write each problem vertically and solve.
4th through 6th Grades
Use this worksheet to help students practice decimal addition and subtraction with three decimal places.
4th through 6th Grades
At the top of the page, students are shown a dozen shapes with decimal numbers in them. Students add numbers in congruent shapes. For example: Find the sum of the numbers in the hexagons.
4th through 6th Grades
Students will practice adding and subtracting to the thousandths with bar models in this printable math activity.
4th through 6th Grades
Students will practice decimal operations to the thousandths using bar models. They will find the missing value for each bar model. Then they will write an addition or subtraction number sentence for each.
4th through 6th Grades
Decimal Worksheets
Worksheets for introducing decimal concepts, comparing decimals, and ordering decimals.
Multiplying Decimals
Solve multiplication problems that have decimal factors.
Dividing Decimals
This page has worksheets with decimal long division problems.
Adding Money
This page has lots of worksheets and activities on money addition.
Subtracting Money
This page has dozens of worksheets on subtracting money.