Music - Instrument Families
These worksheets can help students learn about the different instrument families (or groups) like: strings, woodwinds, percussion, and brass.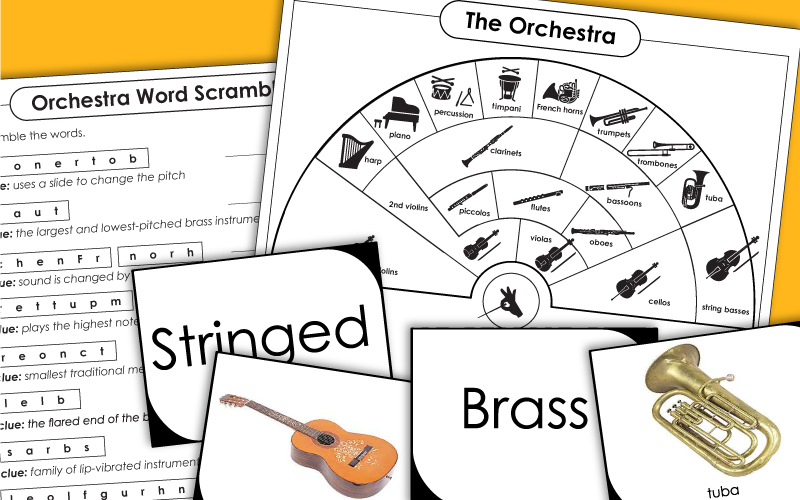 Students will use the list provided at the top of the page and write down the instrument in the correct group it belongs to.
3rd through 6th Grades

Logged in members can use the Super Teacher Worksheets filing cabinet to save their favorite worksheets.
Quickly access your most used files AND your custom generated worksheets!
Please login to your account or become a member and join our community today to utilize this helpful feature.

Students will use crayons to color the different sections of the orchestra (percussion, brass, strings, and woodwinds).
1st through 6th Grades
This worksheet has pictures of instruments on it and students will label which instrument families they belong to.
2nd through 6th Grades
With the help of a word bank, students will label the instruments and write the name of the instrument family.
Students will use the words from the word bank to fill in the name of each instrument shown and the entire instrument family.
Label each of the instruments using names from the word bank. Then label the entire instrument family.
Can your students name all the instruments on this page and the family they belong to? There's a word bank to help.
This worksheet has facts about instruments in the woodwind family. Students will label the instruments shown and order them from highest to lowest.
This worksheet describes characteristics of instruments in the brass family. Students can label images of 6 brass instruments and then number them from highest in pitch to lowest in pitch.
Read a bit about string instruments, and then label some of the instruments that make up that instrument family.
Read about the percussion family and then label the instruments shown on the page.
Have your students sort the instrument picture cards into four groups - percussion, woodwind, brass, and strings.
2nd through 6th Grades
Find different brass instruments and related vocabulary by unscrambling the letters on this puzzle worksheet.
3rd through 6th Grades
Students will have fun unscrambling the letters to reveal percussion instruments on this printable puzzle worksheet.
3rd through 6th Grades
Unscramble the letters to find different woodwind instruments and parts on this printable puzzle worksheet.
3rd through 6th Grades
Students will unscramble the mixed up letters on this worksheet to find different string instruments and related vocabulary.
3rd through 6th Grades
Music Worksheets
This page has worksheets about music notes and symbols, staff paper, practice charts, and awards.
Art and Music Index Page
This page has a complete listing of all our music and art pages. Some of the topics include: general music, drawing, shapes, and coloring.