Use these worksheets and printable activities to teach students about subtracting money amounts. On this page, you'll find worksheets, task cards, math riddles, and a mini-book.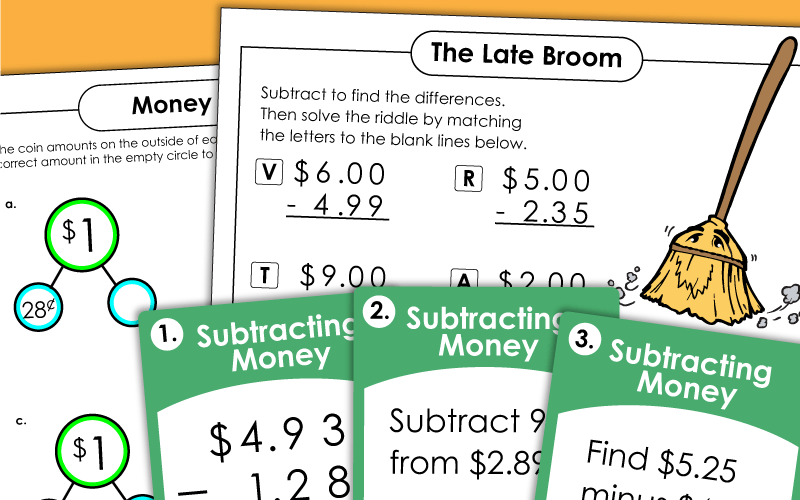 This file has 30 task cards with money subtraction on them.
2nd through 4th Grades
Scan the QR codes on this worksheet with a smartphone or iPad to view subtraction word problems. Solve and show your work in the space provided. All problems require students to make change by subtracting across zero.
(Note: This worksheet requires students to use a smartphone or tablet with a QR code scanner.)
4th through 6th Grades
Subtraction Generator
Create your own customized subtraction worksheets with this generator tool. Simply choose the number of digits you'd like in your problems, then write your own header, and the computer will create your own worksheets with random numbers.
4-Digit Subtraction
Practice subtracting 4-digit numbers with these printable worksheets and activities.
More Subtraction
From this page, you can navigate through our huge collection of subtraction worksheets. Includes 2-digit, 3-digit, and 4-digit subtraction. Also includes basic facts as well as fraction and decimal subtraction.
Math Worksheets
Here you can browse though thousands of math worksheets. Topics include addition, multiplication, division, area, perimeter, shapes, symmetry, graphing, money, time, and algebra.