Post the daily Number Detective clues.  Students read the clue each day and try to narrow down the secret number.  These worksheets feature a cartoon detective and include daily cards, as well as answer cards that students can fill out when they solve the puzzle.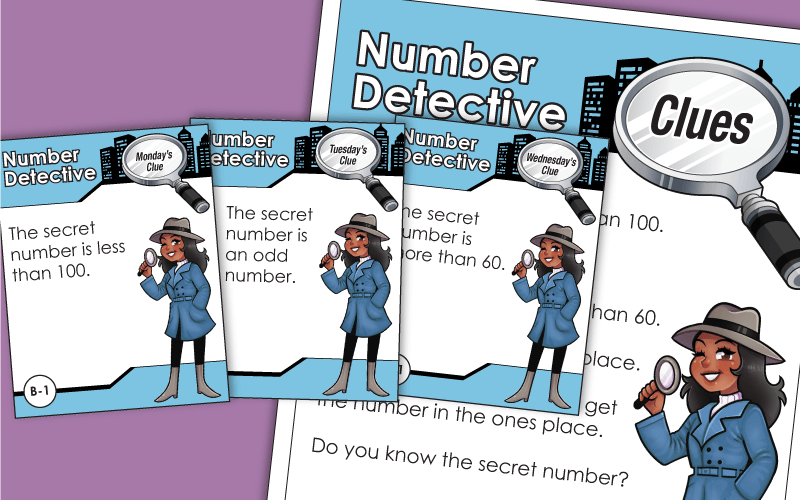 This mystery number is a seven-digit whole number.  To find the digit in the hundred thousands place, calculate the quotient of 50 and 10.  The hundreds, thousands, and millions digit are all the same.
4th Grade
This mystery number is not a whole number - it's a fraction.  The denominator is equal to the number of sides on an octagon.  Divide fifty-six by 8 to find the numerator.
4th Grade
This number is a decimal that's less than two, but greater than one.  If you round the secret number to the nearest whole number you get 2.  The digit in the tenths place is odd.
4th Grade
The mystery number for this week is a mixed number.  One part of this number might be considered unlucky.  The difference between 660 and 647 is the denominator.
4th Grade
This time you'll be searching for a number that is lower than zero.  It's twenty-three less than fifteen.
4th Grade
How many years are in a century?  How many degrees are in a right angle?  How many days in March?  How many days in a leap year?  Add the answers to find the number.
4th Grade
There's a kid who just turned 60 months old. His age in years is one of the digits in the mystery decimal number.
4th Grade
To calculate this mystery number you'll need to know the quotient of 300 and 50, as well as the definition of a unit fraction.
4th Grade
Start with the product of a dozen and a dozen, then double it. Then add ten thousand and then another eighty thousand.
4th Grade
Solve these mystery fraction problems, then add the fractions to find the mystery number.
4th Grade
Make your own Number Detective clues with this blank template.  It includes the full page layout, the Monday through Friday clue cards, and two versions of the student answer cards.
2nd Grade
Addition Squares
Add the numbers horizontally and vertically to complete the addition square puzzles.
Secret Code Math
On these SCM worksheets, students will decode addition, subtraction, multiplication, and division problems before solving.