First Grade Spelling List A-1
Spelling unit A-1 has 8 spelling words and 2 star words. All words have the short-a sound. Words list: hat, am, had, and, as, can, man, cat.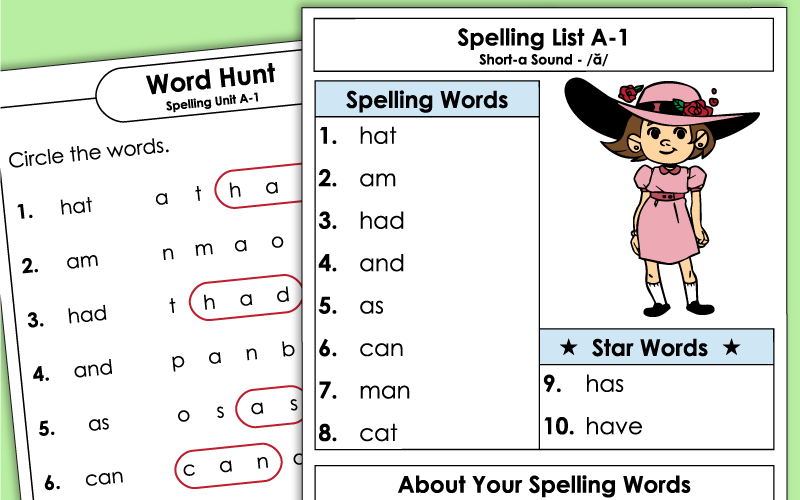 This list has 8 regular short-a words, plus two bonus (challenge) words. List includes: had, am, hat, as, and, cat, man, can, have, has.
1st Grade
Follow the directions on the page. Write four words that start with the letter H. Write two words that rhyme with RAN.
1st Grade
Complete each sentence with a spelling word from this week's list.
1st Grade
The words in these sentences are all mixed up. Unscramble the words to make a complete sentence. Each sentence has one or two spelling words in it.
1st Grade
Can your students unscramble the letters in these mixed-up words?
1st Grade
Cut out the word cards. Arrange them on the table to make complete sentences. Includes 25 word cards, 10 of which are spelling words.
1st Grade
In their best handwriting, students write each spelling word two times. This worksheet includes primary-ruled paper.
1st Grade
Search for all ten spelling words in the horizontal letter sets.
1st Grade
Use this set of ten printable flashcards to help your students learn this week's spelling words. Incorporate them into classroom games and activities.
1st Grade
This word wheel can be used to play a spelling game. Player one spins the wheel and reads the word to player two. Player two spells each word.
1st Grade
Cut out the pig and word strip along the dotted lines. Weave the strip through the slots on the pig and slide it up and down to read different words from the A-1 spelling list. (Click on the ALT button below for a full color version.)
1st Grade
Cut out the spelling words. Sort them alphabetically. Then glue them onto the worksheet in the correct order.
1st Grade
Write all of your spelling words in alphabetical order.
1st Grade
Here's a template to use with your students' end-of-week test.
1st Grade
Teachers can use this sentence list when giving your unit A-1 posttest or pretest.
This PDF file has word lists for all 30 units in the STW Spelling Series for 1st grade.
1st Grade
Spelling Unit A-2
The next unit in the STW spelling series has short-e words. Word list: jet, gem, peg, ten, bed, yes, get, red.
1st Grade Spelling (Full Index)
From here you can jump to any unit in the Grade 1 spelling curriculum.
Short-A Worksheets
This page has a selection of short-a poems, mini-books, worksheets, and word sorts.