First Grade Spelling List A-2
First grade spelling unit A-2 has words with the short-e sound. The list includes the words: bed, get, gem, red, jet, ten, peg, and yes. The list also includes two challenge words, or star words: them and when.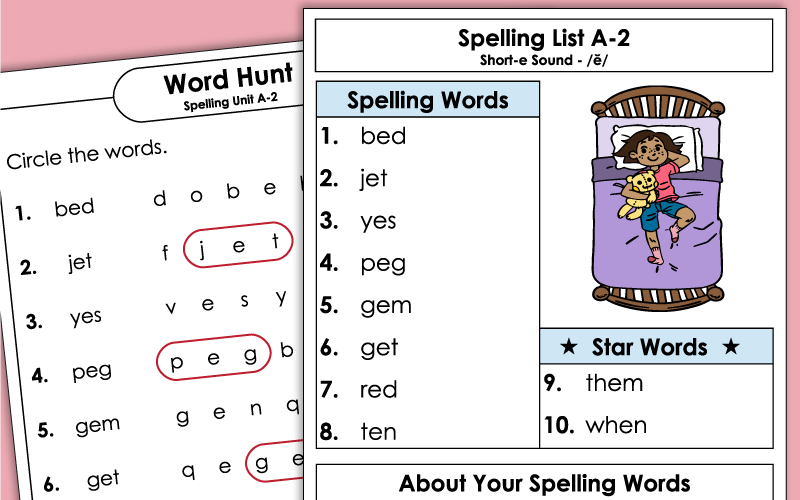 These words have the short-e sound. There 8 words, plus 2 "star words." The full list has the words bed, red, them, gem, yes, get, jet, ten, when, and peg.
1st Grade
Answer the questions and write the word for each picture.
1st Grade
Complete each sentence with one of the six spelling words in the bank at the top of the page.
1st Grade
Each sentence contains one or more of your spelling words. Can you unscramble the sentences so they make sense?
1st Grade
The letters in each of the A-2 spelling words are all scrambled up. Can your students unscramble the words?
1st Grade
Arrange the word cards to make complete sentences. This file has 25 word cards, 10 of which are spelling words from this unit.
1st Grade
Your kids can practice writing each of their spelling words two times each. This page has primary-ruled lines.
1st Grade
This special word hunt activity has words hidden in horizontal lines.
1st Grade
In this two-player game, kids review spelling words. Player one spins the wheel and reads the words. Player two spells the words.
1st Grade
Here is a set of ten flashcards for your students to use as a learning aid. These printable spelling flashcards can be used at home or in the classroom.
1st Grade
This is a fun way to practice memorizing spelling words from Unit A-2. Slide the strip up and down in the airplane-shaped word slider to read all of the words. Full color version of the word slider available through the ALT button.
1st Grade
Cut out all ten spelling word cards, then paste them on the sheet in ABC order.
1st Grade
Student can practice alphabetizing their spelling words with this exercise.
1st Grade
Use this template when giving your A2 spelling posttest at the week's end. This template has primary-ruled lines so students can form their letters properly.
1st Grade
Read these sentences aloud to your students as you give this week's spelling test.
1st Grade
Here's the complete master list for all 1st grade (level a) spelling units in this series.
1st Grade
Spelling Unit A-3
The next unit is the STW spelling series has short-i words: six, hit, him, did, is, if.
First Grade Spelling (Main)
This link will take you to the main index page for 1st grade spelling. You can link to any spelling unit from here.
Short-e Worksheets
Here's a page from our site with lots of short-e worksheets. Includes mini-books, short-e poems, build-a-word activities, and more.