Solid Shapes Worksheets : 3D Shapes
This page contains printable geometry worksheets for teaching solid shapes.  Students identify the following shapes: rectangular prism, cube, sphere, cone, pyramid, cylinder, and others.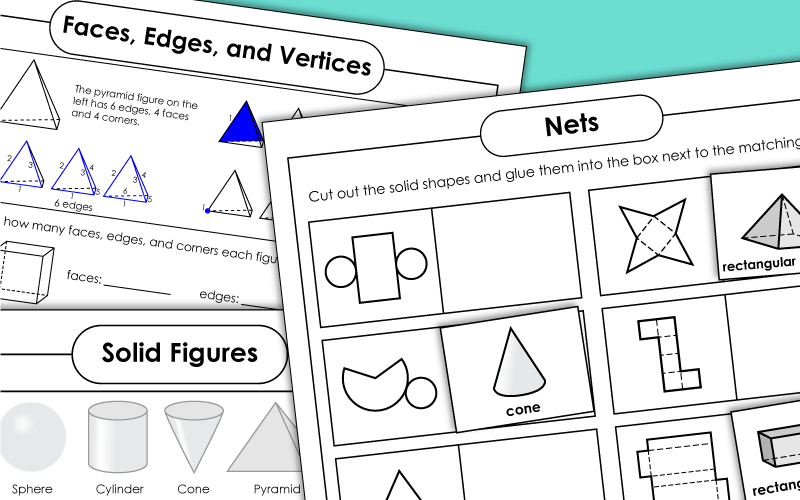 Five questions about solids that require logical thinking skills.
1st through 3rd Grades
Choose a word from the word box to answer each of these questions about solid shapes.
2nd and 3rd Grades
Match the polygon or solid shapes with their names in this concentration-style memory card game.
1st and 2nd Grades
Take photographs of geometric lines and shapes. Then use your photos to make a picture book.
3rd through 5th Grades
Tell what shape is made by each net shown. Shapes include cube, rectangular prism, cone, pyramid, and triangular prism.
1st through 3rd Grades
Examine the pictures of the nets carefully and answer the multiple-choice questions.
1st through 3rd Grades
Match each solid shape with its net in this cut-and-glue activity.
1st through 3rd Grades
Sort the shapes into two groups on the t-chart: solid shapes and flat shapes.
Kindergarten to 2nd Grade
Geometry Worksheets
Worksheets for teaching coordinate grids, ordered pairs, and plotting points.
Polygon Worksheets
Worksheets on polygons and flat shapes.
Similar and Congruent Shapes
Printable worksheets on identifying similar and congruent shapes
Solid Shapes (Very Basic)
This page has Pre-K through 1st grade worksheets on identifying solid shapes.