Three-Letter Consonant Blend: SQU
Your students will have fun learning about the three-letter consonant blend SQU with the printable worksheets and activities from this page.
They will learn words such as: squat, squid, squeak, squad, squish, and squint.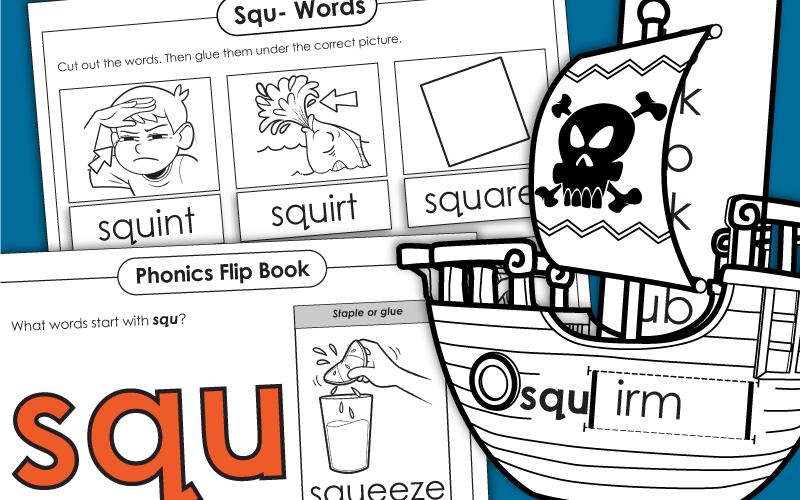 The first page of this file outlines five different ways you can use these cards. The most popular is a memory match game where students need to match the picture to the correct /squ/ word.
1st and 2nd Grades
Make a stamping station part of your learning center with this worksheet. Students can practice spelling out the 5 /squ/ words on this page with letter stampers. The boxes are large and include enough blank space to allow little hands to fully stamp out each word.
1st and 2nd Grades
This fun activity allows your students to get creative and make sentences with the word cards provided. Encourage them to use at least one /squ/ word per sentence. Then they can practice their printing skills by writing the sentences on the primary-ruled lines.
1st and 2nd Grades
Print off this file and have students cut out the flash cards. They can use them in a variety of ways, from simply reading the words to playing interactive games with other classmates.
1st and 2nd Grades
This word slider looks like a pirate ship! Print it out so your students can cut it out and use it to practice reading and saying the 10 /squ/ words on the word strip.
1st and 2nd Grades
Print off this file to make a fun and interactive study aid to use with your students. Just cut out and attach the two pieces. Then spin the wheel and have students read each /squ/ word they see.
1st and 2nd Grades
Phonics Worksheets
View our full collection of phonics worksheets, from vowel sounds to blends and beyond!
Fry Instant Sight Words
We have lots of worksheets on Fry sight words on this page. Check out games, word wheels, and more!