Back-to-School Worksheets
Welcome your students back to school with the classroom scavenger hunt, an "all about me" printable, a friendship game, word puzzles, and even homework agenda planners.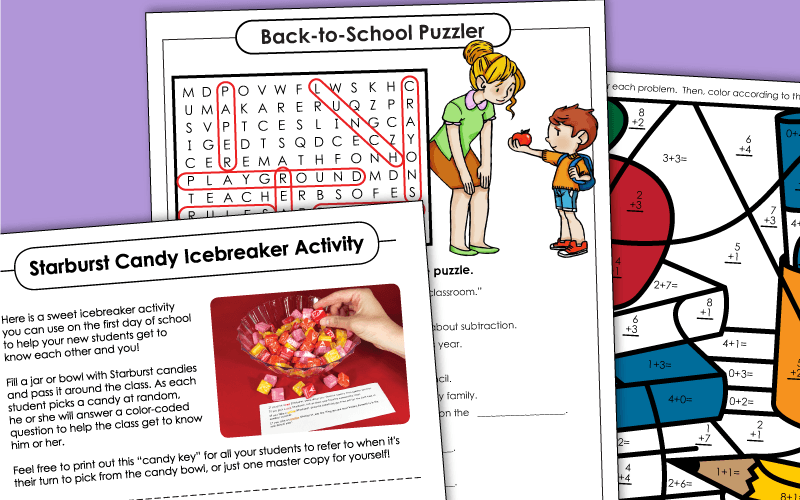 Printable Subject Covers
Printable subject covers for binders, folders, and notebooks. Subjects include: reading, math, science, social studies, and more!
Mystery Picture Worksheets
Review basic math skills during the first weeks of school. Solve the simple adding, multiplying, subtracting, and division problems and color the secret mystery picture.
Teaching Tools
Printable lesson plan book pages, attendance record sheets, agenda pages for students, notes for absent students, birthday charts, and other teaching tools for the beginning of the school year.
Autumn Worksheets
Autumn crafts, reading comprehension passages, puzzles, and calendars.
Classroom Newsletter (Generator)
Make your own custom classroom newsletters. Choose a theme, and a layout. Then enter your own class news.
Custom Calendars (Generator)
Make your own custom calendars. Choose your desired month and year. Then enter your own choice of holidays, birthdays, and other important dates.
Reminder Wristbands
These printable reminder wristbands can help students remember homework assignments, lunch money, field trips, and overdue library books. You'll also find reward wristbands too!