Looking for some activities for the last day of school?  Try these printable worksheets, writing prompts, and activities!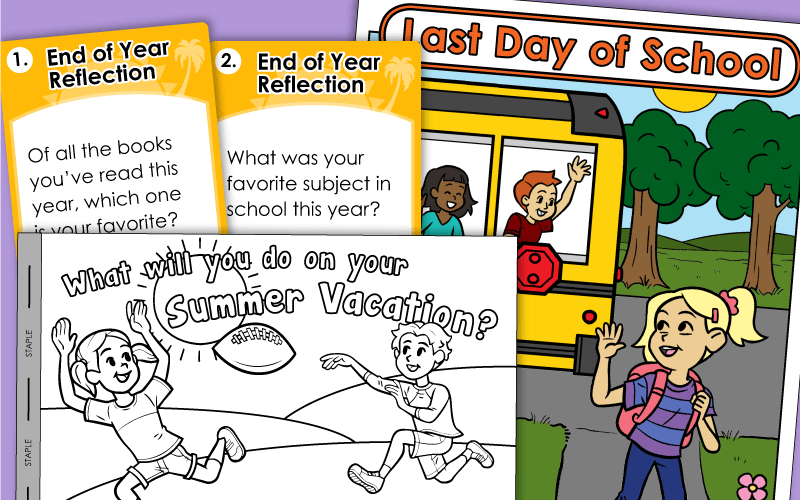 This coloring page shows a student waving goodbye to her friends on the school bus.
Kindergarten to 3rd Grade


Logged in members can use the Super Teacher Worksheets filing cabinet to save their favorite worksheets.
Quickly access your most used files AND your custom generated worksheets!
Please login to your account or become a member and join our community today to utilize this helpful feature.

These task cards have group discussion questions. Students choose a card and take turns answering the questions. (examples: Of all the books you've read this year, which one was your favorite? What was your favorite subject in school this year, and why? Who did you sit with in the lunch room this school year, and why did you enjoy being with them?)
2nd through 5th Grades
Color, cut, and staple together this easy-to-read miniature book.
Kindergarten to 2nd Grade
Students circulate around the classroom to find a student who has done each item on the list. (examples: Find a student who came to school on their birthday. Find a student who has been kind to you this year.) When they find a friend who meets a given criteria, they have the friend sign their sheet. Each classmate can only sign once.
2nd through 4th Grades
Attach these gift tags to a small pack of sidewalk chalk. It says, "I hope your summer is chalk full of fun!"
These tags can be attached to frisbees. They read, "This school year really flew by!"
This is a gift tag you can attach to a bottle of bubbles. It says, "You blew me away this year."
These tags can be tied onto plastic sunglasses. They say, "You have a bright future ahead of you!"
These tags say, "Owl really miss you."
Print and cut out these adorable "Hope Your Summer Rocks!" labels and attach them to Pop Rocks candy for each of your students. This makes an awesome end-of-the-year gift!
Summer Worksheets
Print summer word search puzzles, stories for kids, and math worksheets. These will tie-in perfectly to your end of year wrap up.
Mystery Graph Art
Plot the points and connect the dots to make mathematical masterpieces. Kids love doing these puzzles as an end-of-year project.
Word Search Puzzles
Looking for something to do on the last few days of school? Try these word searches.
End of the Year Activities
Suggestions from other teachers for activities done on the last few days of school.