The worksheets on this page guide students through the poetry-writing process. We have worksheets for teaching haiku writing, couplets, acrostic poems, rhyming, alliteration, and more.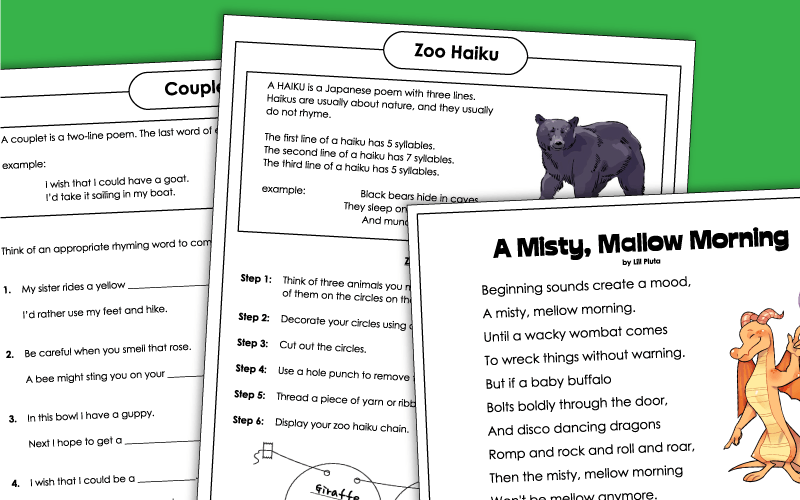 Write a spring-themed acrostic poem. Then, color in the page!
2nd through 5th Grades
Write an acrostic poem about your favorite animal. Includes a sample acrostic titled, "Tigers."
2nd through 5th Grades
Make a poetry pennant display for your classroom. Each student writes and poem and copies it to the pennant. Hang the pennants on a string across the classroom.
2nd through 6th Grades
In this activity students will think about different habitats and the plants and animals found within them. They will then write a poem about the plants and animals found within a particular habitat. Background on habitats, graphic organizer, poem example, and poem layout included in packet.
3rd through 6th Grades
Complete the poem by adding exciting adverbs to go along with each action verb.
2nd through 5th Grades
Read the poem and answer the comprehension questions. Then write another verse.
4th Grade
Poems for Kids
We have scores of poems, written for students in all grade levels.
Syllable Worksheets
Learn how to divide words into syllables with these printable worksheets.
Rhyming Words
Learn to recognize simple rhyming words. Most of these worksheets are geared towards younger students.
Similes and Metaphors
Use these worksheets to learn about writing similes and metaphors.
Reading and Writing Worksheets
Download thousands of reading and writing worksheets for kids.