This page has worksheets and reading comprehension passages to celebrate Women's History. Historical figures include Jane Addams, Helen Keller, Rosa Parks, Clara Barton, Louisa May Alcott, Harriet Tubman, and more.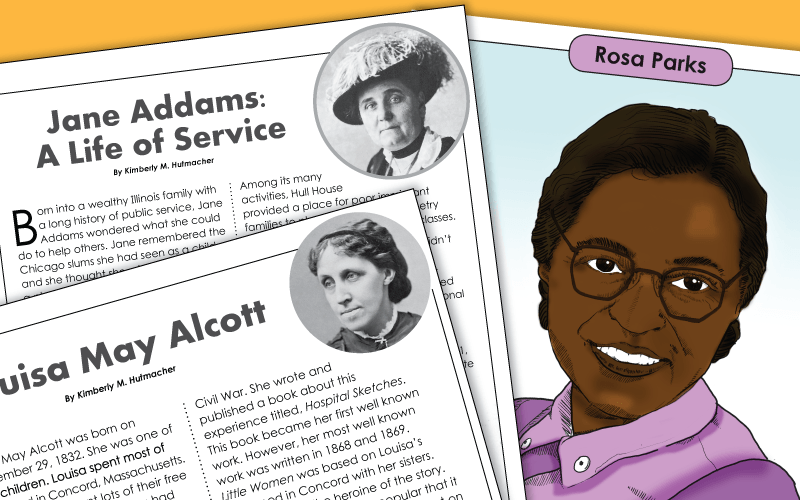 This is a biography of Jane Addams, with questions. Addams was a leader in the Women's suffrage movement and founder of Chicago's Hull House.
4th through 6th Grades




Logged in members can use the Super Teacher Worksheets filing cabinet to save their favorite worksheets.
Quickly access your most used files AND your custom generated worksheets!
Please login to your account or become a member and join our community today to utilize this helpful feature.

Learn about Louisa May Alcott, author of the Little Women series of books. This biographical includes questions to check comprehension.
4th through 6th Grades
Clara Barton was a Civil War era nurse who founded the American Red Cross. This file contains a biographical reading passage, followed by a set of comprehension questions and a crossword puzzle.
4th through 6th Grades
In 1932, aviation pioneer Amelia Earhart became the first female pilot to fly solo across the Atlantic.
6th Grade
Learn about a remarkable woman who faced difficult challenges to become an accomplished doctor, scientist, astronaut, explorer, and astronaut: Dr. Mae Jemison.
6th Grade
Learn about the inspiring life and legacy of Helen Keller in this middle school reading comprehension article. Comprehension questions, vocabulary words, and a writing prompt are included.
6th Grade
Rosa Parks was an activist in the civil rights movement. She was a black woman who famously refused to give up her seat for a white woman on a bus.
4th through 6th Grades
When you think of a courageous trailblazer, who comes to your mind? When you learn about Harriet Tubman in this historical biography, you'll see why she is remembered as a heroic and courageous leader of the abolitionist cause.
6th Grade
Learn about what inspired Susan La Flesche Picotte to become the first Native American woman to earn a medical degree and become a physician.
5th Grade
Sacagawea was a Native American woman who, in the early 1800s, assisted members of the Lewis and Clark Expedition.
4th through 8th Grades
Learn about how knitting helped soldiers during the First World War. Following the article, there are reading comprehension questions, matching questions, and a writing section.
5th and 6th Grades
Here is a picture of Sally Ride for your students to color. She was a scientist who, in 1983, became the first woman to travel to space.
2nd through 8th Grades
This worksheet has a large picture of Helen Keller that students can color. There's also an inspirational quote by Keller.
2nd through 8th Grades
Color the picture of Amelia Earhart and read the inspirational quote at the bottom.
2nd through 8th Grades
Rosa Parks was an activist in the Civil Rights Movement. This worksheet has a picture of Ms. Parks for students to color, and an inspirational quote.
3rd through 8th Grades
Harriet Tubman was helped slaves escape to freedom by leading them on the Underground Railroad. This coloring page features an inspirational quote from Ms. Tubman.
4th through 8th Grades
British Scientist Jane Goodall is the world's foremost expert on chimpanzees. This coloring page includes a quote about being kind to animals.
2nd through 8th Grades
Ms. O'Connor was the first woman to serve as a Justice on the United States Supreme Court.
3rd through 7th Grades
St. Patrick's Day Worksheets
St. Patrick's Day is March 17th. Use these printable math, reading, and spelling worksheets with your class.
Holiday Worksheets
This index page links to worksheets for all seasons, events, and holidays.
Black History
Download printable worksheets to use during Black History Month (February).