Three-Letter Consonant Blend: SPR
All of the printable worksheets and activities on this page feature words with the three-letter consonant blend SPR. Your students will learn words like spring, spray, sprint, spread, sprout, and sprinkle.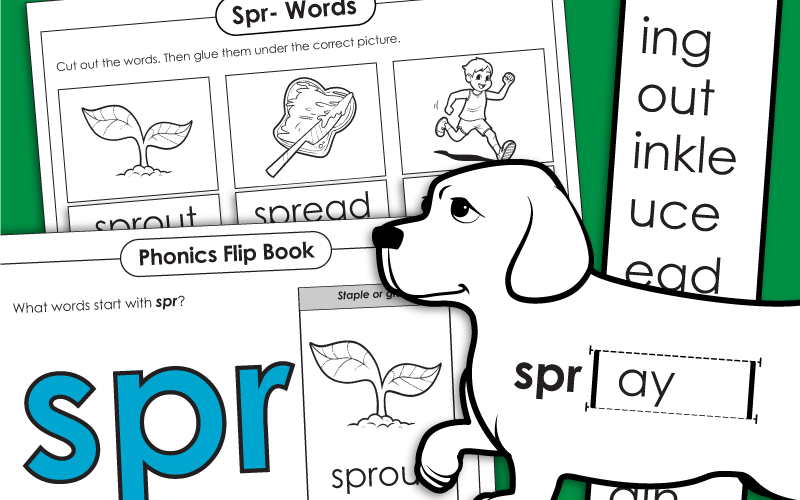 There are several ways you can use this card game activity. One way is to have students cut out all the cards, place them upside down, and flip two cards. If they flip matching cards, they can keep them. Whoever collects the most cards wins!
1st and 2nd Grades
Set up the letter stampers and have students practice spelling the /spr/ words shown on the page. Words include spray, spring, sprain, sprout, and sprint.
1st and 2nd Grades
Your students can practice making sentences with this activity. Have them cut out the words and move them around to create complete sentences. Then they can practice their writing skills by writing the sentences on the provided lines.
1st and 2nd Grades
Students can use these flash cards to practice reading and saying common /spr/ words like spring, spruce, spray, spread, sprout, and more!
1st and 2nd Grades
Use card stock to print this worksheet to have a sturdy phonics study tool. Students can carefully cut out the slider and word strip, as well as the two dotted lines on the slider. Then simply slip the word strip into place and practice reading and saying the words shown.
1st and 2nd Grades
This word wheel makes for a fun and interactive way to practice /spr/ words. Just print out the pages on heavy card stock, attach the two pieces together, and spin to view the different words.
1st and 2nd Grades
Phonics Worksheets
Go to this page to view our full collection of phonics worksheets.
Fry Instant Sight Words
Check out our Fry sight word worksheets, including word wheels, bingo cards, word walls, and games.