Three-Letter Consonant Blend: SPL
The worksheets and activities on this page all feature words with the three-letter consonant blend SPL. Your students will learn words like splash, split, splat, spleen, and splint.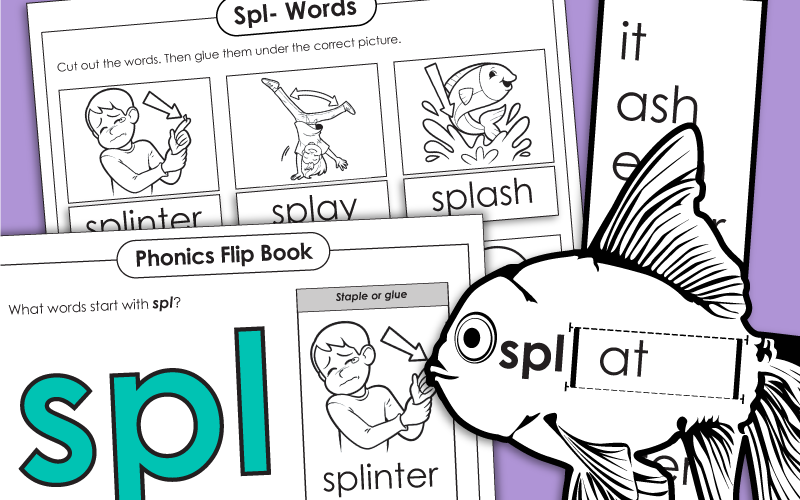 Use these cards for a fun memory match game or for a variety of other activities. However you choose to use them, students will practice identifying /spl/ words.
1st and 2nd Grades
With this activity, students can cut out the word cards and rearrange them on the table to build sentences. The goal is to use at least one /spl/ word in each sentence. Then they can write the sentences on the primary-ruled lines provided with the printout.
1st and 2nd Grades
Set up the letter stampers and use this printout with your students for a fun learning center. They'll use the stampers to spell each word in the box provided.
1st and 2nd Grades
Your class can practice their /spl/ words with this set of flash cards. You can use them for memory activities, simple practice reading the words, or even laminate them and use them for a game with the whole class.
1st and 2nd Grades
Use this fun study-aid worksheet with your students to practice reading and saying /spl/ words. Just have them cut out the fish and word strip, cut along the dotted lines, and weave the strip through to make a slider.
1st and 2nd Grades
Practice /spl/ words with your class using this word wheel. Make it sturdy by printing the pages out on card stock. Then have students cut the pieces out and attach them together with a paper fastener. Then students can spin the wheel and practice reading each of the eight /spl/ words.
1st and 2nd Grades
Phonics Worksheets
Check out our full collection of phonics worksheets, including letter sounds, digraphs, r-controlled vowels, and more.
Fry Instant Sight Words
View all of our Fry sight word worksheets here.