This page contains a large collection of compare and contrast graphic organizers, articles, activities, and worksheets.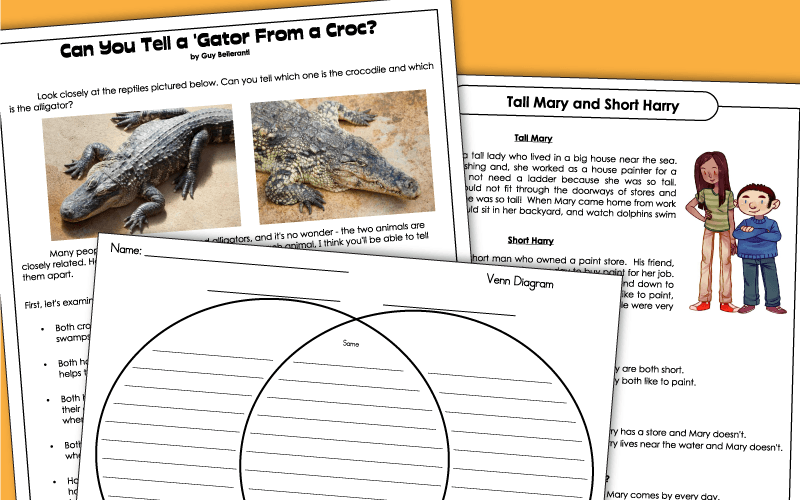 Use this Venn diagram to compare and contrast two items, people, events, or topics.
Kindergarten to 4th Grade


Logged in members can use the Super Teacher Worksheets filing cabinet to save their favorite worksheets.
Quickly access your most used files AND your custom generated worksheets!
Please login to your account or become a member and join our community today to utilize this helpful feature.

This version of the Venn diagram has lines for students to write on.
2nd through 5th Grades
This Venn diagram has three circles for comparing/contrasting three different topics.
2nd through 5th Grades
Are you tired of using Venns for compare and contrast? Try the double bubble map instead!
Read the compare and contrast article about dolphins and porpoises. This article includes a question page, a graphic organizer, and a vocabulary worksheet.
3rd through 5th Grades
This article highlights the similarities and difference between boas and pythons. After reading the article, students answer the comprehension questions and complete the Venn diagram.
3rd through 5th Grades
This non-fiction passage explains the differences between alligators and crocodiles. Several comprehension questions follow the article.
3rd through 5th Grades
How can you tell the difference between frogs and toads? Students will find out when they read this fascinating animal article.
3rd and 4th Grades
Learn about the similarities and differences between moths and butterflies. A page of comprehension questions are included.
3rd through 5th Grades
This cute story describes two people: Tall Mary and Short Harry. Compare and contrast the two characters, then answer the questions that follow.
2nd and 3rd Grades
Compare two delicious, tropical, yellow fruits: bananas and pineapples. Read the passage and then answer four comprehension questions.
2nd and 3rd Grades
Would you rather visit the beach or climb a mountain? These two paragraphs highlight the similarities and differences.
2nd Grade
Carroll Diagrams
Use these printable Carroll diagrams to sort shapes, pictures, and numbers.