Canadian Provinces and Territories Worksheets
Teach your students about Canada's 10 provinces and 3 territories with these printable maps and worksheets.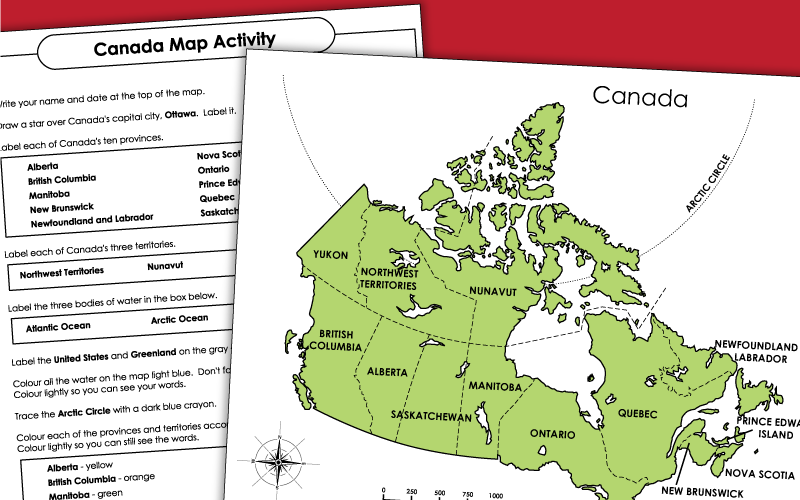 Use these forms to write a research report on one of Canada's provinces.
4th through 6th Grades
Match each province to its capital in this 2-player card game.
4th through 6th Grades
Print out these puzzle pieces to match each Canadian province/territory with its capital.
4th through 6th Grades
Match each Canadian province with its capital. Then match each Canadian territory with its capital.
4th through 6th Grades
This worksheet contains a table with provinces and territories, their abbreviations, and their capitals.
4th through 6th Grades
Students write their address, town/city, province, country, continent, hemisphere, and planet. Then they draw a picture of their home and a map of their province.
Individual Provinces and Territories
Link to worksheets for the 13 individual provinces and territories. (example: Worksheets only for the province of Ontario.) Maps, flags, coats of arms, and more.
Penelope Peabody: Lost in Canada
Penelope Peabody is visiting Canada, but she's not sure where exactly she is! Students use clues from the short reading passages to determine which province or territory she's in. This page has 13 worksheets, one for each of Canada's provinces or territories.
Counting Money (Canadian)
Count toonies, loonies, quarters, nickels, and dimes with these Canadian currency worksheets.
Map Worksheets
On this page we have printable maps for each of the seven continents.
USA States and Capitals
Teach students about the USA's fifty states and capitals.