Australia and New Zealand Worksheets
This page features Australia and New Zealand maps and geography worksheets.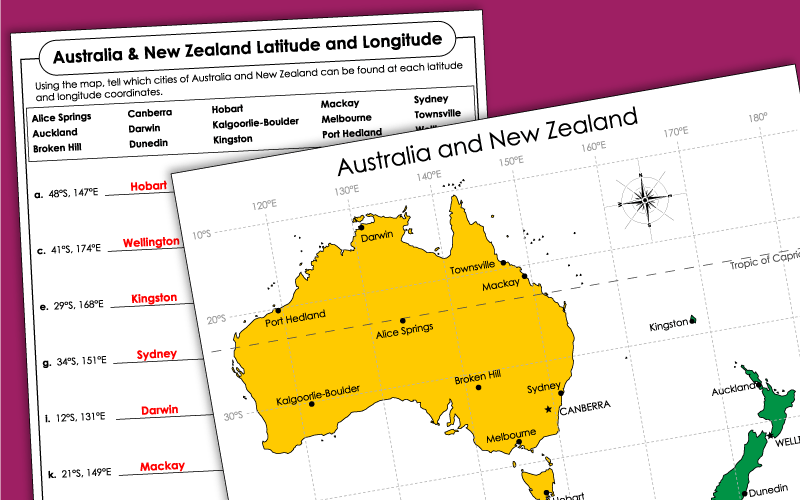 This map shows Australia's states, as well as the two islands of New Zealand.

Logged in members can use the Super Teacher Worksheets filing cabinet to save their favorite worksheets.
Quickly access your most used files AND your custom generated worksheets!
Please login to your account or become a member and join our community today to utilize this helpful feature.

This map shows Australia's states and capital cities.
Write the name of each numbered state on the Australian map.
Students label the Australian states and color the map according to the directions.
Here's a blank map of Australia and New Zealand.
Match each Australian and New Zealand city with its latitude and longitude coordinates.
Use the coordinates to determine the locations of the cities on the map.
In this word puzzle, students draw a line through the letters that spell the names of Australian animals. Words include: wombat, bandicoot, koala, possum, kangaroo, sugar glider, and wallaby. The unused letters in the puzzle spell out a fun fact.
3rd through 6th Grades
The cutest mammals in Australia actually have very sharp claws and they spend more time asleep than they do awake.
4th Grade
This article will teach students about the red kangaroo. Measuring 6 feet tall and weighing 200 pounds, it is the world's largest marsupial.
6th Grade
Echidnas are one of only two mammals they lay eggs. Females also have a pouch to carry their babies, just like kangaroos.
5th Grade
Learn about this fascinating marsupial from Down Under! The article includes reading comprehension questions, a writing prompt, and vocabulary words.
5th Grade
Counting Money (Australian)
Practice counting Australian coins with these money worksheets.
Map Worksheets
Print maps for each of the seven continents.
USA States and Capitals
Learn about the 50 US States and capitals.