Addition Worksheets (2-Digit Addends)
This page has addition worksheets, task cards, games, and word problems. Most problems require regrouping.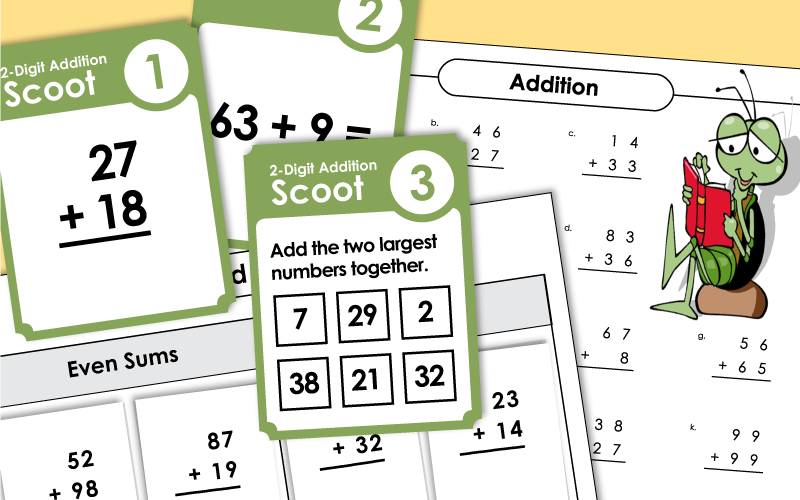 Practice finding sums of three, two-digit addends. This PDF has 12 problems, including a word problem.
In this addition exercise, students will practice adding four, two-digit numbers.
2nd through 4th Grades
These addition problems have already been solved. Look carefully for mistakes. Explain the errors and solve correctly.
2nd through 4th Grades
Addition Worksheet Maker
With this online generator, you'll be able to make customized addition worksheets with 2, 3, 4, 5, 6, or 7 digits. You'll also be able to create your own heading and title, as well as a customized footer.
Basic Addition Worksheets
The link above will take you to a page with basic addition facts (0-10). Includes flashcards, games, timed quizzes, and learning centers.
2-Digit Addition (No regrouping)
This page has math addition worksheets that do NOT require borrowing or regrouping. Most worksheets have double digit problems. Some have triple digits.
3-Digit Addition Worksheets
Here's our collection of triple-digit addition worksheets. (Approximate grade levels: 2nd and 3rd)
4-Digit Addition
This page has practice worksheets and games with 4-digit addition problems.