Use the printable materials on this page to teach your students all about the State of Wyoming. You will find puzzles, mystery pictures, maps, and more.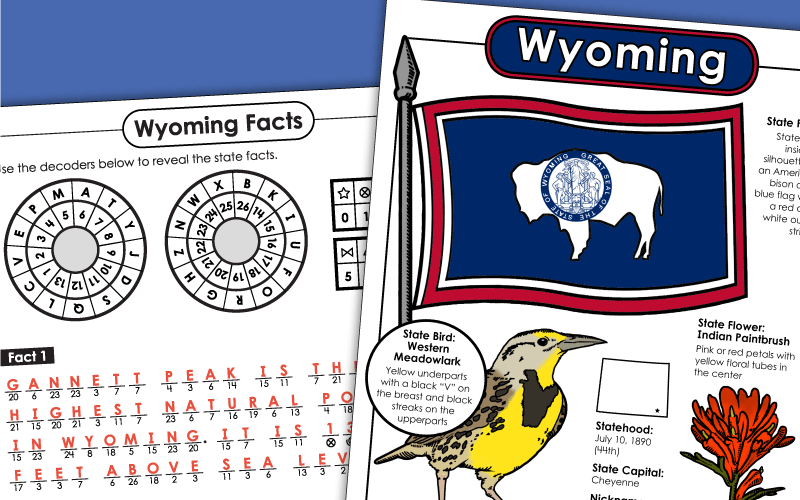 Use the decoders at the top of the page to solve this cryptogram to learn about the state bird, flower, and the highest point in Wyoming.
Find sixteen words hidden in this word-hunt puzzle. Search for: Yellowstone, Old Faithful, Mammoth Hot Springs, Laramie, Jackson Hole, Gannett Peak, cowboy state, Cheyenne, and Bighorn River.
3rd through 6th Grades
Your students will have fun unscrambling these words to find different state symbols and geographic landmarks for the state of Wyoming.
3rd through 6th Grades
She's seen moose and bears, but will Penelope Peabody be able to find a real cowboy in the Cowboy State?
4th through 6th Grades
Use a map of the USA to figure out which state is featured on this worksheet and then answer the questions at the bottom.
4th and 5th Grades
Complete Index of 50 US States
Finding printable maps and worksheets for any of the US states is easy when you use the listing on this page.
50 States and Capitals
This page is filled with printable USA maps and worksheets featuring state capitals.
Social Studies Listing
We have a large selection of Social Studies topics, including landforms, continents, economics, Native Americans, explorers, women's history, American Revolution, Colonial America, and more.