Print out files from the selection of maps, activities, and puzzles from this page to teach your students more about the Northwestern State of Washington.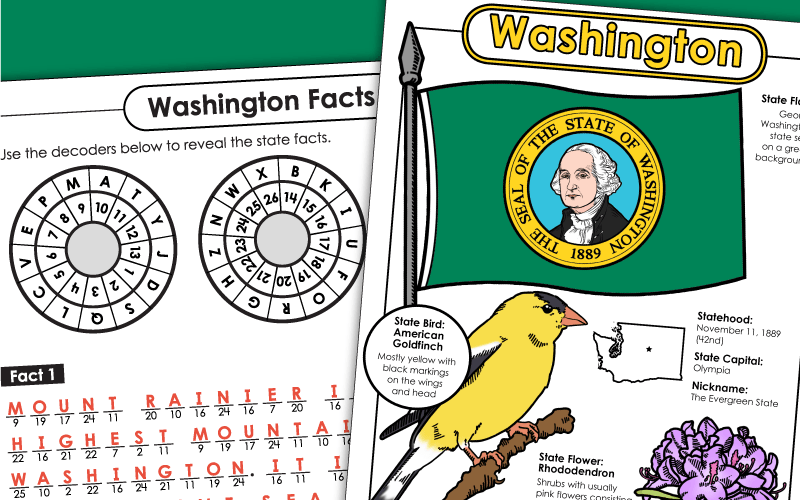 This coloring sheet for Washington features the state flag, and the state bird (American Goldfinch) and flower (Rhododendron).
3rd through 5th Grades

Logged in members can use the Super Teacher Worksheets filing cabinet to save their favorite worksheets.
Quickly access your most used files AND your custom generated worksheets!
Please login to your account or become a member and join our community today to utilize this helpful feature.

Add this printable color map of Washington to your social studies lesson! Labeled on this map are prominent cities, bodies of water, mountains, Canada, and bordering states.
4th and 5th Grades
Color this blank map of the State of Washington. Then add and label the major cities and bodies of water.
Label the major cities and rivers on this map of Washington State. Cities featured include Olympia, Walla Walla, Tacoma, Seattle, Everett, and Spokane. Color and complete the map by following to the instructions on the second page.
This Washington state map includes the labels for major cities, bodies of water, and bordering states.
This blank map of Washington does not show the bordering states or the Pacific Ocean.
The state of Washington's flag features a picture of its namesake on a green background. Use this page to teach students about it.
3rd through 5th Grades
With this worksheet students can color in the state of Washington's flag.
3rd through 5th Grades
Print out this page to use as a visual aid while teaching about the state of Washington and its seal.
3rd through 5th Grades
Use this printout with your students to help them become familiar with what Washington's state seal looks like. For a fun supplemental activity, have them color it in.
3rd through 5th Grades
Solve this cryptogram puzzle to find out that Mount Rainier is the highest mountain in the State of Washington.
4th and 5th Grades
Look carefully through the letter grid to find the following words and phrases: Tacoma, Spokane, Snake River, Puget Sound, Mount Ranier, Hoh Rain Forest, and Columbia River.
3rd through 6th Grades
Challenge your students to solve these scrambled word puzzles to reveal important state symbols and geographical landmarks for the state of Washington.
3rd through 6th Grades
This time she's lost in the only state named after a U.S. president.
4th through 6th Grades
Students will use a map of the USA to find out which state this is and then write down the state capital, state nickname, state bird, and state flower on the lines below.
4th and 5th Grades
Directory of US States
Find printable worksheets for any of the fifty US States from this complete listing of their pages.
50 States and Capitals
Find a wide variety of learning materials to teach your class about the fifty states and capitals.
More Social Studies
Some of the topics you can find on this index page include maps and worksheets for the US, Canada, UK, Australia and New Zealand, and the Republic of South Africa.