Below you will find an assortment of printable maps, puzzles, fact sheets, and other activities featuring the State of Rhode Island for your students to learn with.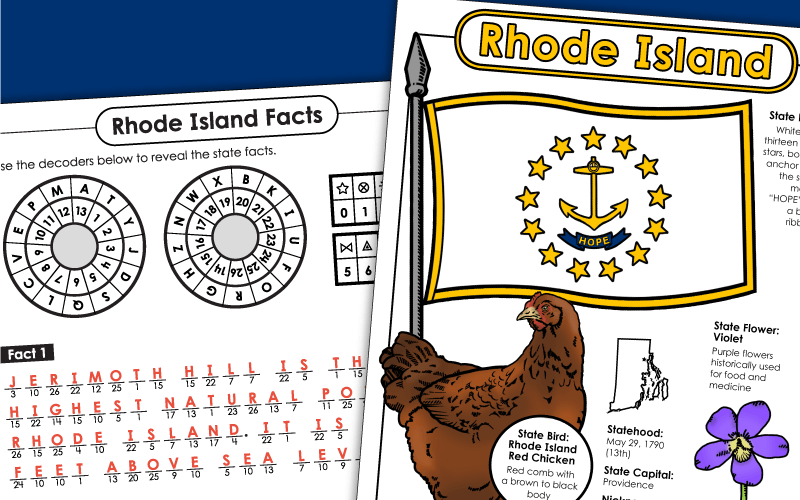 When learning about the state of Rhode Island, this coloring page features the Red Chicken, which is the state bird and the Violet, which is the state flower.
3rd through 5th Grades

Logged in members can use the Super Teacher Worksheets filing cabinet to save their favorite worksheets.
Quickly access your most used files AND your custom generated worksheets!
Please login to your account or become a member and join our community today to utilize this helpful feature.

This color map of Rhode Island is labeled with cities, bodies or water, and neighboring states. Featured in a separate section are the state tree, flower, and bird.
4th and 5th Grades
Students can label and color this blank map of Rhode Island, the smallest state in the USA.
This Rhode Island map has dots for cities. Students write the names of the cities and bodies of water, then color the map according to the instructions.
This Rhode Island map includes the labels for East Greenwich, Newport, Providence, and other major cities. Also shows the Block Island Sound, Flat River Reservoir, Mount Hope Bay, Narragansett Bay, Providence River, and the Rhode Island Sound.
This blank map of Rhode Island does not include bordering states.
Show your students what the Rhode Island state flag looks like.
3rd through 5th Grades
Rhode Island's flag has an anchor design in the middle. Challenge students to find the right colors to use to fill in this page.
3rd through 5th Grades
Rhode Island's seal features an anchor and the word "hope." Show this page to your students while teaching them what the symbols mean.
3rd through 5th Grades
Looking for a coloring activity to supplement lessons on the state of Rhode Island? Look no further! This page can be used as a coloring page that also shows students an important symbol of their state.
3rd through 5th Grades
Use the decoders at the top of this printable to find the solution to the puzzle. Students will learn two new facts about Rhode Island.
4th and 5th Grades
This Rhode Island word search puzzle features words such as: violet, Prudence Island, ocean state, Narragansett Bay, Jerimoth Hill, Conanicut Island, cliff walk, and East Greenwich.
3rd through 6th Grades
Print out this word scramble for a fun social studies activity for the state of Rhode Island. Find out the state fish, state rock, highest point, and other state symbols.
3rd through 6th Grades
When Penelope travels through the Ocean State, she stops at a local coffee shop and learns about its history and size.
4th through 6th Grades
Can you guess which (tiny) state is shown in this picture? Use a map of the USA, if necessary and then write some state facts on the bottom.
4th and 5th Grades
Complete Index of 50 US States
Click here for a full listing of all of the states in the USA and their pages.
50 States and Capitals
This page has printables for teaching about all 50 states and capitals.
Social Studies Topics
Some of the topics you can find on this index page include: branches of US Government, US Presidents, Native American history, and more.