Look at the variety of printable activities below that your students can use to learn all about the State of Pennsylvania.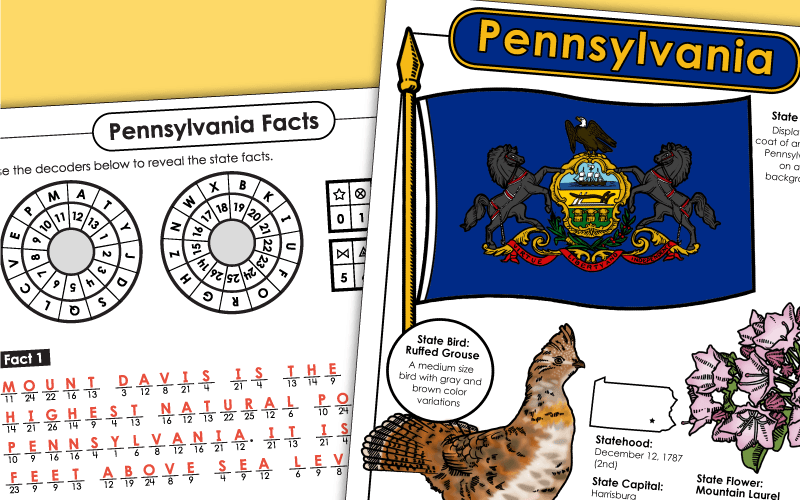 Use the decorders at the top of this worksheet to find the solution to the puzzle. Students will learn two new facts about Pennsylvania.
4th and 5th Grades
Your students will enjoy finding 21 words hidden in this word search puzzle. Word list includes: Allegheny River, Delaware River, Allentown, Gettysburg, Keystone state, Appalachians, coal, Hershey, commonwealth, Harrisburg, Lake Erie, Mount Laurel, Philadelphia, Pittsburgh, oil, Steelers, and ruffed grouse.
3rd through 6th Grades
Students will have fun in social studies class unscrambling these words to find different symbols and geographic landmarks for the state of Pennsylvania.
3rd through 6th Grades
Penelope crashes her red convertible into the Liberty Bell. Time to head out of the Keystone State before she runs into more trouble.
4th through 6th Grades
Students can use a map of the USA to find out which state is shown here and then write down some state facts on the lines on the bottom.
4th and 5th Grades
The 50 States
This page is filled with printable worksheets featuring the fifty US states and their capitals, as well as links a collection of files for each individual state.
More Social Studies
Some of the topics you can find on this index page include maps and worksheets for the US, Canada, UK, Australia and New Zealand, and the Republic of South Africa.