Print out blank and labeled maps, puzzles, fact worksheets and more featuring the State of Kentucky.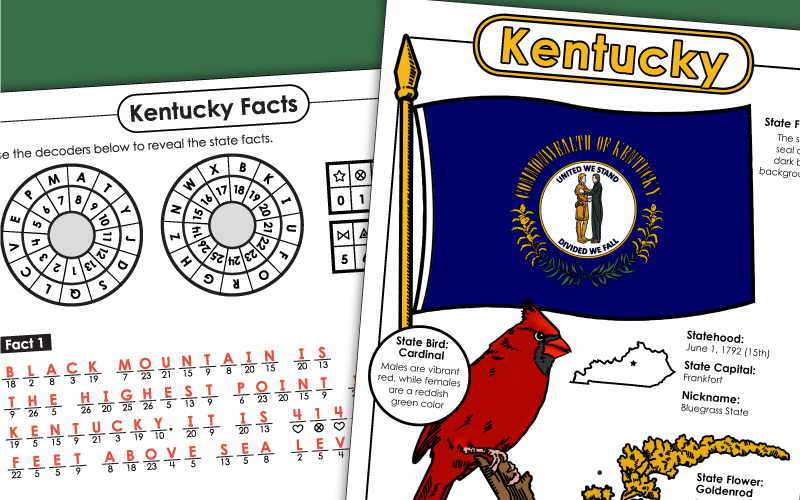 Color the Kentucky flag, the state bird (cardinal) and the state flower (goldenrod).
3rd through 5th Grades

Logged in members can use the Super Teacher Worksheets filing cabinet to save their favorite worksheets.
Quickly access your most used files AND your custom generated worksheets!
Please login to your account or become a member and join our community today to utilize this helpful feature.

Students will learn all about the state of Kentucky by viewing this full-color printable map. They will be able to point out prominent cities, rivers, and neighboring states.
4th and 5th Grades
Use crayons or colored pencils to complete this blank map of Kentucky.
This Kentucky map has markers for cities of Bowling Green, Frankfort, Lexington, Louisville, and Owensboro.
This Kentucky map includes labels for Bowling Green, Lexington, Frankfort, and Louisville. It also includes Cumberland Lake, the Cumberland River, Kentucky Lake, the Mississippi River, and the Ohio River.
This blank map of Kentucky does not include bordering states.
Here's a short, single-paragraph passage about Mammoth Cave in central Kentucky. Students can read the paragraph and answer the comprehension questions that follow.
3rd and 4th Grades
Do your students know what the Kentucky state flag looks like? They will once you print this colorful page!
3rd through 5th Grades
Have your students color in Kentucky's flag.
3rd through 5th Grades
Kentucky's seal prominently features the colors blue and gold. You can use this page to aid in teaching your students about it.
3rd through 5th Grades
Do your students know what Kentucky's state seal looks like? After you print them this worksheet they will!
3rd through 5th Grades
Students will learn that the highest point in Kentucky is Black Mountain when they solve this printable cryptogram puzzle.
4th and 5th Grades
Look carefully through the letter grid to find the following words and phrases: Tulip Poplar, Mammoth Cave, Lexington, Frankfort, Cumberland River, Cardinal, Bluegrass state, and Black Mountain.
3rd through 6th Grades
Rearrange the mixed up letters to find these Kentucky-themed words. Find the state mineral, state nickname, largest city, and several others.
3rd through 6th Grades
When Penelope stops at the local KFC, a friendly stranger welcomes her to the Bluegrass State. She's on her way to Churchill Downs to see a famous horse race.
4th through 6th Grades
Guess which state is shown on this worksheet (use a map of the USA, if needed) and then find the answers to the questions on the bottom.
4th and 5th Grades
50 States Index
Find all of our worksheets for any of the fifty US states on this complete list.
50 States and Capitals
This page is filled with printable USA maps and worksheets featuring state capitals.
Social Studies - Complete List
Some of the topics you can find on this index page include: branches of US Government, the American Revolution, US Presidents, Native American history, and more.