Maps, coloring activities, state facts, and other printable worksheets featuring the State of Kansas, can be found on this page.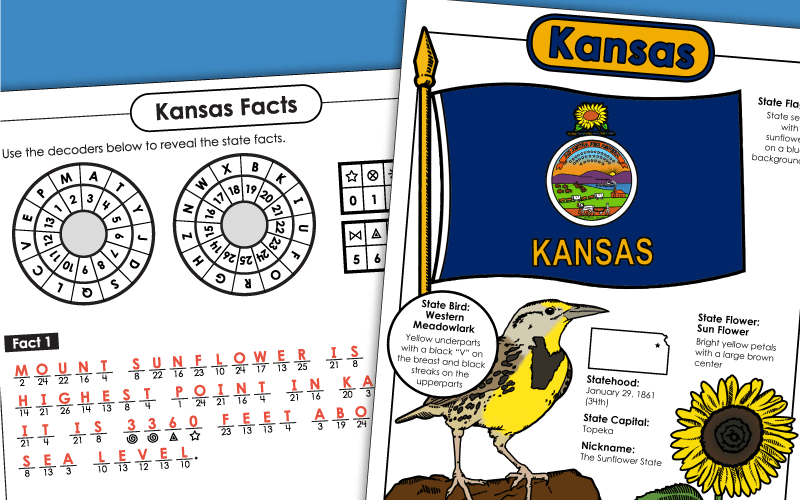 Your students will learn the state animal and state bird of Kansas after they find the solution to this cryptogram puzzle.
4th and 5th Grades
Hunt carefully through the letter grid to find the following words and phrases: Wichita, Western Meadowlark, Overland Park, Mount Sunflower, Kansas City, jawhawk state, and American Bison.
3rd through 6th Grades
Test your skills at unscrambling these words highlighting the state of Kansas. Some of the words are important geographical points and others are state symbols.
3rd through 6th Grades
While driving through this mid-western state, she is reminded of her favorite movie, The Wizard of Oz.
4th through 6th Grades
Using a map if needed, determine which state is shown in the picture and then find the answers to the questions at the bottom.
4th and 5th Grades
50 States Directory
Enter this page to find worksheets for any of the 50 US states.
50 States and Capitals
Find puzzles, maps, longitude and latitude worksheets, and more featuring the fifty states and capitals.
Social Studies - Complete List
Some of the topics you can find on this index page include maps and worksheets for the US, Canada, UK, Australia and New Zealand, and the Republic of South Africa.