5th Grade Spelling List E-16
Homophones are the focus for unit 16. Homophones are pairs of words that sound alike, but have different pronunciations and meanings. List: Witch-which; petal-peddle; hole-whole; bear-bare; piece-peace; flower-flour; whether-weather; plain-plane; steal-steel.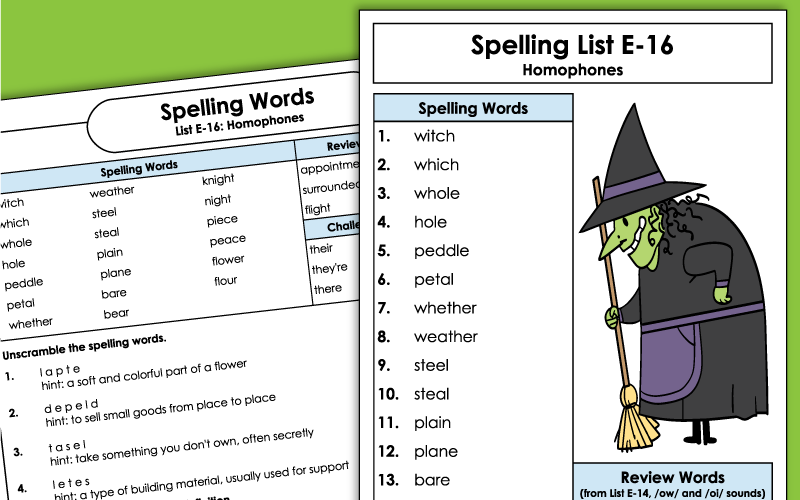 Homophones are the topic of this week's spelling list. Witch, which; whole, hole; whether, weather; plain, plane; petal, peddle; bear, bare; night; knight; flower, flour; piece, peace.
5th Grade
Answer questions about this week's spelling words. Determine which spelling word belongs with which definition. Unscramble the spelling words. Fill in the missing letters. Complete the sentences. Answer bonus questions. Answer key is included.
5th Grade
Students will circle the spelling word in each sentence. If the word is spelled incorrectly, they will spell it correctly on the line provided. An answer key is included.
5th Grade
Each of this week's spelling words in all scrambled up. Unscramble the letters.
5th Grade
In their best handwriting, students write each pair of homophones two times.
5th Grade
Kids make their own word-find puzzle. After creating the puzzles, they exchange papers with their classmates and solve.
5th Grade
Hunt for your spelling words in the puzzle.
5th Grade
This printable worksheet is a typing activity containing the words from Spelling Unit E-16. The words in this unit are all homophones, including: witch, petal, plane, plain, weather, peace, and flower.
5th Grade
Learning to spell is fun when you're playing spelling games with flashcards.
5th Grade
Your spelling words are set apart in groups. Arrange each group of words in alphabetical order. Answer key is included.
5th Grade
Write all spelling words, including review and challenge words, in alphabetical order. Start with the word appointment and end with the word witch.
5th Grade
With scissors, students will cut apart the spelling words. Then use glue or tape to attach them to the worksheet in alphabetical order.
5th Grade
This spelling test page has a picture of a witch on the top. Students write homophones (like which/which; whole/hole) on the lines as their teacher reads them aloud.
5th Grade
Here is a list of 25 sentences that contain the words for this unit's spelling test. Read them aloud to your students during their spelling test.
5th Grade
All of the word lists for 5th grade (Level E) spelling units can be found here.
5th Grade
Spelling Unit E-17
Word list includes: attacked, awoke, became, belonged, bought, caught, chatted, delayed, managed, preferred, puzzled, repaired, shook, signed, studied, traveled, understood, visited, withdrew, and wrapped. These words are past tense verbs.
Fifth Grade Spelling Units (Full Index)
Our full index page has a complete list of all units for grade 5 spelling.
Homophone Worksheets
This page has over a dozen printable homophone worksheets and activities.