4th Grade Spelling Unit D-2
Print spelling worksheets and activities to use with spelling list D-2. This week's focus is on words with the short-i, short-o, and short-u vowels sounds. Word list: costume, imitate, building, kitchen, follower, window, swift, octopus, cotton, prompt, switch, shock, important, fudge, olive, crunch, cousin, fling, suddenly, and shrimp.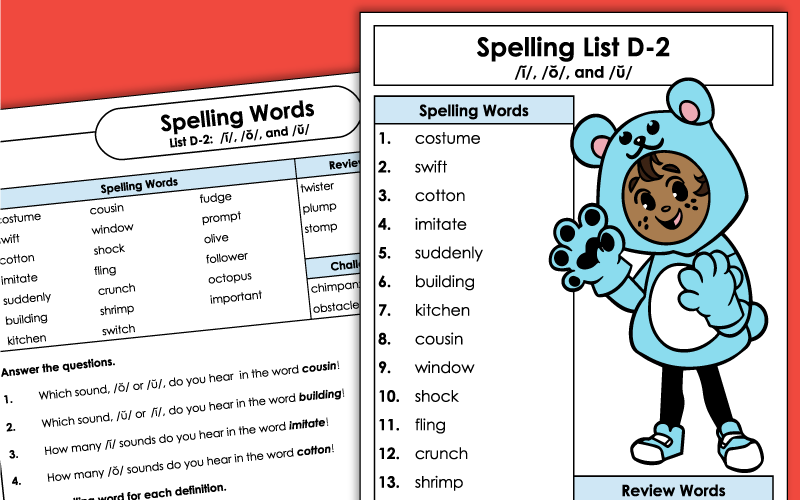 This week's words all have the short-u, short-o, and/or short-i vowel sounds. Words: costume, switch, swift, shock, cotton, crunch, building, octopus, suddenly, important, cousin, kitchen, follower, fudge, fling, shrimp, olive, imitate, prompt, and window.
4th Grade
Here is a spelling activity that includes questions about your D-2 spelling words. This activity includes phonics questions, unscramble the spelling words, complete the sentences, and more. An answer key is included.
4th Grade
Some of these sentences have spelling errors and some do not. Find the errors and correct them.
4th Grade
Unscramble the mixed-up letters to make short vowel spelling words.
4th Grade
Students will use the hints to solve this crossword puzzle, which contains words from the D-2 Spelling List.
4th Grade
Practice writing each spelling word two times each. Includes review and challenge.
4th Grade
Student can make their own word puzzle and have a friend or classmate solve it.
4th Grade
Search for all of your spelling words in this word-hunt puzzle. Some words are hidden vertically or horizontally, while others can be found diagonally.
4th Grade
Students will type their spelling words into sentences using a word processor, such as Microsoft Word or GoogleDocs.
4th Grade
These cards can be used to play a 2-player game. Each player draws a card at random and asks his partner to spell the word.
4th Grade
Rewrite each group of spelling words in alphabetical order on the blank lines.
4th Grade
With their scissors, students will cut out the spelling word cards. Then they can arrange them alphabetically on the page.
4th Grade
Write all spelling words (including review and challenge) in ABC order. Start with the word building and end with the word window.
4th Grade
This worksheet can be used as a test template. There are lines for students to write all 25 words.
4th Grade
When giving a spelling test, teachers can read these sentences aloud. All words are in random order.
4th Grade
This file displays all 30 word lists in the 4th grade spelling series.
4th Grade
Spelling Unit D-3
Next week, your kids will practice long-a words, such as painter, shape, painful, famous, radio, skater, danger, change, tasty, basic, phrase, weight, crazy, eighth, angle, ranger, drain, faint, frame, and space.
4th Grade Spelling (Full Index)
On this page you'll find links to all 30 units in our 4th grade spelling curriculum.
Chapter Book Worksheets (Many Titles)
We have worksheets for many popular chapter book series, including Tales of a 4th Grade Nothing, Mr. Popper's Penguins, Bunnicula, Holes, The Giver, and many more!