Fourth Grade Spelling Unit D-3
This week's focus is on long-a words. Word list: painter, shape, danger, skater, space, drain, painful, faint, crazy, basic, famous, ranger, tasty, phrase, weight, frame, change, steak, radio, eighth.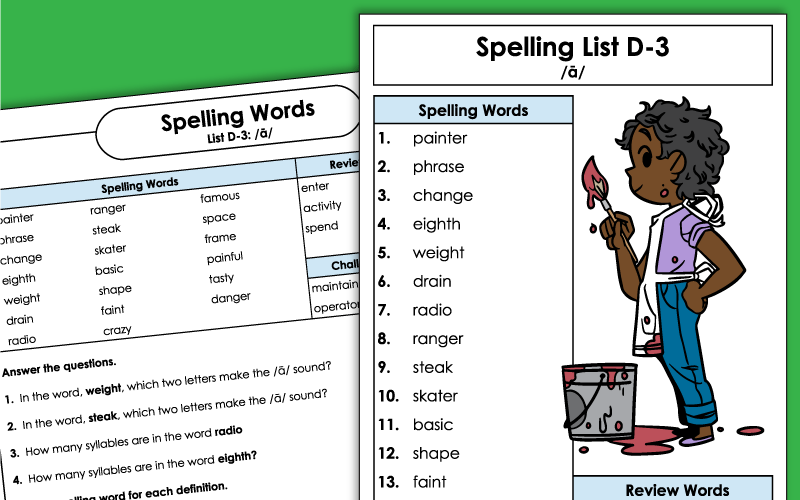 The third list in the STW spelling series has long-a words: painter, phrase, radio, famous, space, steak, basic, faint, skater, painful, danger, crazy, weight, drain, frame, tasty, shape, eighth, ranger, and change.
4th Grade
In this activity, you'll answer phonics questions about your spelling words. You'll also complete the sentences, provide a spelling word to match each definition, and unscramble the spelling words.
4th Grade
Fix the spelling errors in these sentences. This worksheet has 30 sentences. About half of them have mistakes for students to correct.
4th Grade
Challenge your students to unscramble the spelling words.
4th Grade
The words in Spelling Unit D-3 are all long-A words. Have your class solve this crossword puzzle as a fun way to practice their spelling list.
4th Grade
Make your own word search using the words from this week's spelling list. Hide the words diagonally, vertically, or horizontally. Fill in the rest of the grid with random letters. Give to a friend to solve.
5th Grade
Next to each spelling words is a pair of blank lines. Students write the words on the lines. This activity can be used as handwriting/cursive practice too.
4th Grade
How many long-a spelling words can your students find in this word-hunt puzzle?
4th Grade
Students will practice their typing skills by typing their spelling words in sentences using this printable spelling activity.
4th Grade
Each of these flashcards has a spelling word on it. Use them for small group instruction or peer spelling games.
4th Grade
Rewrite each group of long-a spelling words alphabetically.
4th Grade
Cut out the ABC order and then use glue or tape to affix them to the page in alphabetical order.
4th Grade
Write your complete spelling list in ABC order, beginning with the word basic and ending with the word weight.
4th Grade
This is a template that students can use when taking their spelling posttest on Friday.
4th Grade
On this document you'll have 25 sentences- one for each of this week's words. Read the sentences aloud as students write them on their test papers.
4th Grade
On this file, you can see all 38 word lists in the STW spelling curriculum.
4th Grade
Spelling Unit D-4
The fourth unit has long-e words, such as cookie, breeze, stream, slimy, repeating, eager, brief, thief, relieved, honey, thirteen, season, freezing, beetle, shiny, jelly, leader, speaking, seamstress, and agree.
Grade 4 Spelling Units (Full Index)
This page has links to all spelling lists and worksheets for 4th graders.
Creative Writing Topics
Here you'll find dozens of creative writing topics for your 4th graders.