3rd Grade Spelling Unit C-5
This unit has long-oo and long-u vowel sounds. Word list: fruit, moon, musical, few, knew, computer, cute, rescue, spoon, perfume, rules, bedroom, mule, new, stool.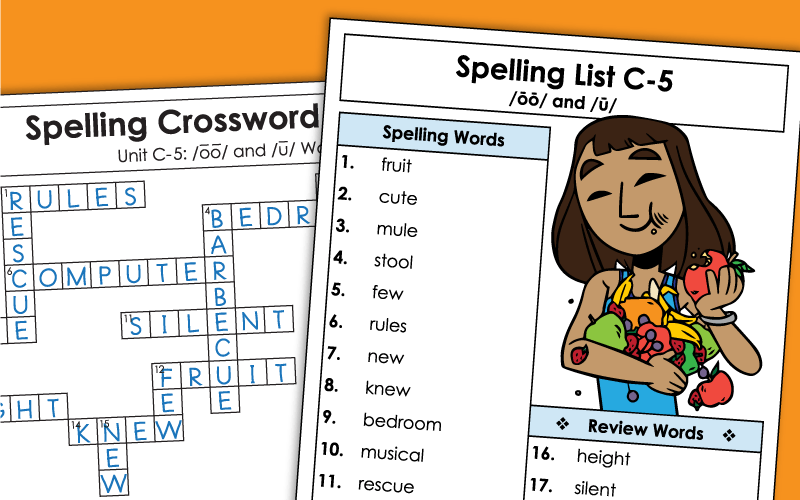 This week students will learn to spell many words with the long-oo and the long-u sounds. List includes the following: fruit, spoon, rescue, knew, moon, bedroom, perfume, few, mule, musical, computer, stool, cute, new, and rules.
3rd Grade
Tell which sentences are written correctly, with no spelling mistakes. Then fix the misspelled words in the incorrect sentences.
3rd Grade
Print out this worksheet for students to solve this crossword. Great for independent work in class or to take home for fun.
3rd Grade
Can you unscramble the word? The letters in this weeks spelling words mixed up. Put them in the correct order to reveal each word.
3rd Grade
Have your students find the unit five spelling words in the word find puzzle.
3rd Grade
With this activity, pairs of students practice their spelling by making word puzzles for each other.
3rd Grade
On this worksheet, students write each spelling word two times each.
3rd Grade
This activity requires students to use a word processor to type sentences with their spelling words in them.
3rd Grade
Print out this spelling activity on card stock and have your students play the game with a partner to practice their spelling words.
3rd Grade
Use these cards for small group instructions, peer study groups, or spelling games.
3rd Grade
On this printable worksheet, kids will alphabetize groups of spelling words.
3rd Grade
Cut out the spelling cards at the bottom of the page. Glue each one onto the page in alphabetical order.
3rd Grade
Place this weeks spelling words in alphabetical order. Write each word on the line provided.
3rd Grade
Here's a template you can use when giving your end-of-week spelling assessment.
3rd Grade
Here is a list of sentences you can read aloud to your students for their spelling test.
3rd Grade
This printable file has the complete master word lists for all 30 of our third grade spelling units.
3rd Grade
Spelling Unit C-6
Next week's words have a silent-e at the end. The list has the words: smile, arrive, cube, choke, stripe, flame, rose, globe, note, skate, become, pancake, beware, white, and confuse.
3rd Grade Lists (Full Index)
This is the page with the full 3rd grade spelling index.
Fact & Opinion Worksheets
Use these printables when you teach students about the differences between facts and opinions.