1st Grade Spelling List A-6
Below you'll find a complete collection of first grade spelling worksheets for unit A-6 in the STW spelling series. This week's topic is sight words. These are words that students should be able to read quickly, without sounding them out. List: the, do, to, you, of, a.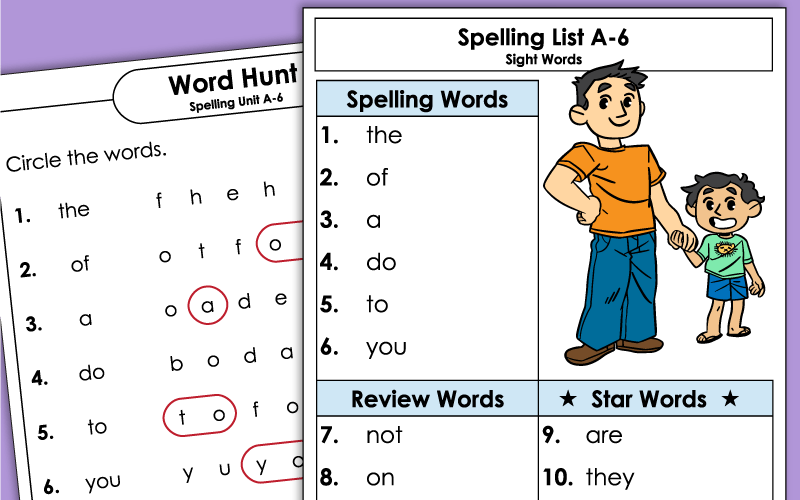 These are sight words for first graders. Full list: the, a, you, of, do, to. Star words: are, they. Review words (from list A-4): not, on.
1st Grade
Students will answer questions about their Unit 6 spelling words. Which two words begin with the TH sound? Write a word that rhymes with MOO. An answer key is included.
1st Grade
Complete each of the six sentences with a sight word from this week's spelling list.
1st Grade
Unscramble the words to make complete sentences. Each sentence has 1 or 2 spelling words in it.
1st Grade
On this worksheet, your class will try to unscramble the letter in their spelling words.
1st Grade
Create sentences for the 10 spelling words by cutting out the 25 words cards and arranging them.
1st Grade
Your students can use this worksheet to practice printing their words.
1st Grade
Can your kids find all of the words in this horizontal word hunt puzzle?
1st Grade
Use this word wheel to play a fun spelling review game with a classmate.
1st Grade
This file contains a set of ten flashcards for this week's spelling words. Use these printable flashcards to help your young learners master their spelling words through one-on-one review, group study time, or classroom games and activities.
1st Grade
Your students will love using this cute bear-shaped word slider to practice their Unit A-6 spelling words! The ALT button below leads to a full color version.
1st Grade
First cut out the A-6 spelling word cards from the bottom of the page. After that, you'll put them in ABC order on the numbered rectangles. Then use a glue stick to attach them to the worksheet.
1st Grade
Neatly print each of this week's words in alphabetical order.
1st Grade
Students can use this sheet to write their spelling words during the weekly spelling test. There are 8 lines for spelling words, 2 lines for review, and 2 lines for star words.
1st Grade
Here are sentences you can read aloud to your students during their spelling test.
1st Grade
Here is a complete collection of word lists for the first grade spelling series, units 1 through 30.
1st Grade
Spelling Unit A-7
Next week, your kids will learn about long-a words, spelled with a silent e. Space, gave, rake, fake, age, brave make, and race.
First Grade Spelling (Full Index)
Explore all 30 1st grade spelling units, as well as theme and holiday units.
Dolch Sight Words
Download and print sight word flash cards, bingo games, checklists, word wheels, and worksheets.
Fry Sight Words
STW has bingo games, flashcards, and activities to use with the Fry Instant Sight Word list.