1st Grade Spelling List A-7
The worksheets below can be used with unit A-7 in the S.T.W. spelling curriculum. Topic of the week is long-a words, spelled with a silent-e at the end.
Word list: race, make, rake, fake, age, and gave. Challenge words, or star words, are: brave and space. Review words (from unit A-5) are: fun, but.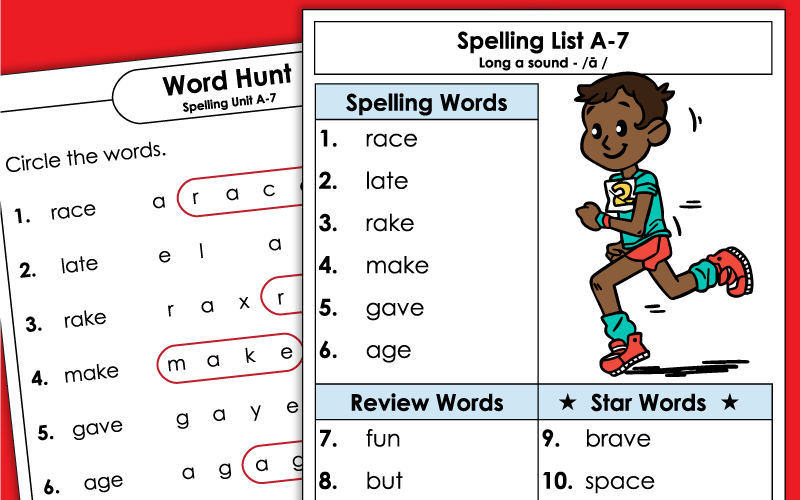 The words in this spelling list have the long-a sound. Each word is spelling with a magic-e (sometimes known as a silent-e) at the end. Race, rake, age, gave, make, space, and brave.
1st Grade
In this printable spelling activity, students will answer questions about their spelling words. Which two words rhyme with CAKE? Write the word that rhymes with DATE.
1st Grade
Choose the best long-a word from the box at the top of the page to complete each sentence.
1st Grade
Rearrange each group of words to make a complete sentence. Write the sentences on the primary-ruled lines.
1st Grade
Unscramble the letters in your spelling words. (example: emak = make)
1st Grade
Make complete sentences by arranging the word cards. Each worksheet has 25 word cards which includes the 10 spelling words.
1st Grade
On the primary-ruled lines, students should print their spelling words using their neatest handwriting.
1st Grade
Search for spelling words in these simple horizontal word searches.
1st Grade
Spin-and-Spell is a 2-player game. Player 1 spins the wheel to reveal words. Player 2 spells the words.
1st Grade
Unit A-7 contains a set of spelling flashcards for extra spelling practice. You can use these printable flashcards in so many ways, so print them and use them for classroom activities and review sessions, or send them home for at-home practice.
1st Grade
Print out these pages to build a fun robot-themed spelling word slider. (Click on the ALT button below for a full color version.)
1st Grade
Cut the long-a words apart. Then rearrange them so they are in alphabetical order. Affix them to the numbered boxes on the worksheet.
1st Grade
Your students should carefully and neatly print each of their spelling words on the primary-ruled lines as they arrange them in ABC order.
1st Grade
Use this page to help assess student spelling.
1st Grade
This page has sentences for teachers to read during a spelling assessment.
1st Grade
This file contains a complete master word list for reference. Includes all words in units 1 through 30, as well as holiday unit and theme units.
1st Grade
Spelling Unit A-8
What's up for next week? A8 has long-i words, such as time, nine, bike, like, and ride.
Spelling Level A
Access all thirty 1st grade spelling units from this page.
Long-A Worksheets
On this section of our website, you'll find a nice selection of worksheets for teaching the long-a vowel sound.