1st Grade Spelling List A-26
Spelling words for this unit: this, then, that, thick, with, and both. All of the words in this unit have the letters th.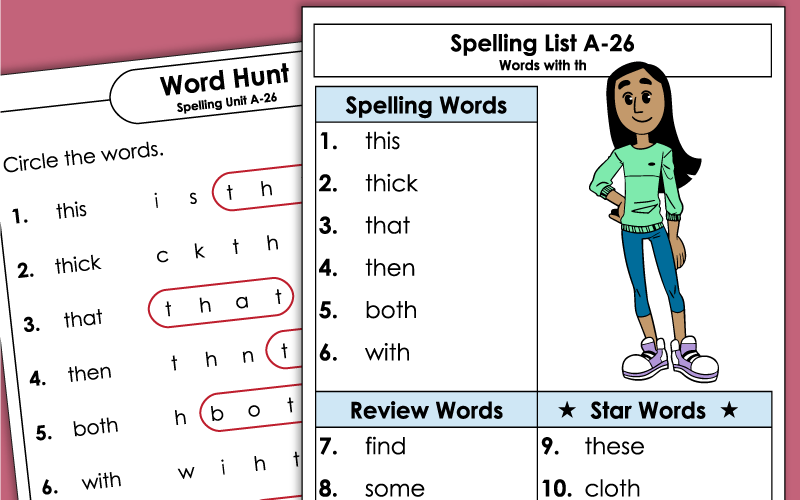 There are two sounds that the letters TH can make. There's the quiet /th/ sound that you hear in words like thin and path. There's also a buzzing /th/ sound that you hear in words like then and they. Words in this set: this, that, with, both, thick, then.
1st Grade
In this printable spelling activity, students will answer questions about their weekly spelling words. An answer key is included.
1st Grade
Students will complete the sentences with a word from the spelling word bank in this printable spelling exercise designed at a first grade level.
1st Grade
In this spelling activity, students will unscramble the words to form a sentence. They will write the sentence on the line provided.
1st Grade
For this activity, students must rearrange each group of letters to make one of this week's spelling words.
1st Grade
Kids can arrange the word cards to make complete sentences with their spelling words. Each worksheet contains 25 word cards.
1st Grade
In their neatest lettering, students write each word two times.
1st Grade
Scan the rows of letters to search for spelling words.
1st Grade
Check out this set of ten spelling flashcards you can incorporate into your spelling curriculum for unit 26. Use these flashcards in a variety of ways to help your students learn their spelling words.
1st Grade
Kids love playing this two-player spelling review game. Player one spins the word wheel to view each spelling word. Player 2 spells each word aloud.
1st Grade
Your students will happy to use this cute dog-shaped word slider to practice their Unit A-26 spelling words. (The ALT button below leads to a full color version.)
1st Grade
Cut out the small spelling word cards. Arrange them alphabetically on the page and glue them down.
1st Grade
On this worksheet, students write their spelling words in an alphabetical list, starting with the word both and ending with with.
1st Grade
This PDF file contains a blank template for your spelling assessment.
1st Grade
Here is a set of sentences you can read aloud to your students during their spelling test for this week.
1st Grade
PDF file contains entire set of word lists for STW first grade spelling series.
Spelling Unit A-27
Grade 1 spelling Unit A-27 contains words with /ar/ sounds. List: car, far, part, start, hard, arch, art, and mark.
1st Grade Spelling (Index)
From this page, you can jump over to any unit in the entire STW 1st grade spelling curriculum.
Digraph TH Worksheets
Jump to this section of our site for many more phonics pages on the two /th/ sounds.