1st Grade Spelling List A-12
Unit A-12 in the STW spelling series features more first grade sight words. The following words are on this list: from, come, one, all, most, what. Star words: was and said.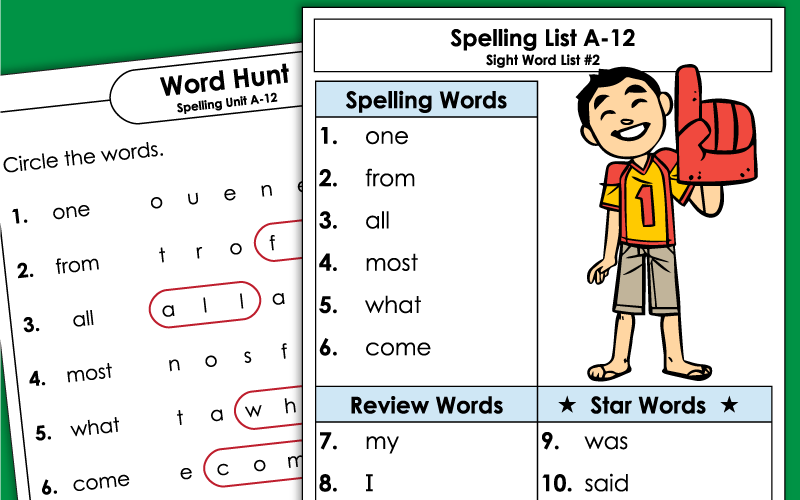 This week students will learn to spell basic sight words. List words: one, from, what, all, most, and come.
1st Grade
In this printable spelling worksheet, students answer questions about their weekly spelling words.
1st Grade
Students will fill in the blank with one of the words from their spelling list. This printable spelling worksheet includes an answer key.
1st Grade
Unscramble the spelling words on this page. Write the word on the primary-ruled lines.
1st Grade
Cut out the word cards to arrange the words into sentences. Each worksheet has 25 word cards which includes 10 spelling words.
1st Grade
Rearrange each group of words to make a complete statement or question. Write the sentences on the line.
1st Grade
For this handwriting assignment, students write each sight word two times. Encourage your kids to print as neatly as possible.
1st Grade
This printable worksheet has 10 rows of letters. Within each row is a hidden spelling word.
1st Grade
This is a two-player spelling game that your kids will love. Player one spins the word wheel to see spelling words. He then challenges player two to spell each word.
1st Grade
These flashcards are great for study time! Use this set of ten printable spelling flashcards for quiet study time or classroom review time.
1st Grade
This is a great way to practice learning spelling words from Unit A-12. Move the word strip up and down in the pig-shaped word slider to read all of the words. (Full color version of the word slider available through the ALT button.)
1st Grade
Cut out the sight words at the bottom of the page. Arrange them in ABC order. Use a glue stick or other adhesive to attach them to the page.
1st Grade
Write all of your spelling words (with bonus and star words) in alphabetical order.
1st Grade
This testing form has a picture of a kid holding up one large foam finger. There is a number one on his shirt too.
1st Grade
This page has sentences that you can read when giving your unit twelve spelling test.
1st Grade
Full list of our spelling series for grade one students.
First Grade Unit A-13
Grade 1 spelling Unit A-13 contains words with blended consonant sounds fl, cl, and bl. List: black, blink, cliff, blue, clap, climb, flake, and flag.
Grade 1 Spelling Series
This page has the entire 1st grade spelling series all on one convenient page.