1st Grade Spelling Unit A-13
Grade 1 spelling Unit A-13 contains words with blended consonant sounds fl, cl, and bl. List: black, blink, cliff, blue, clap, climb, flake, and flag.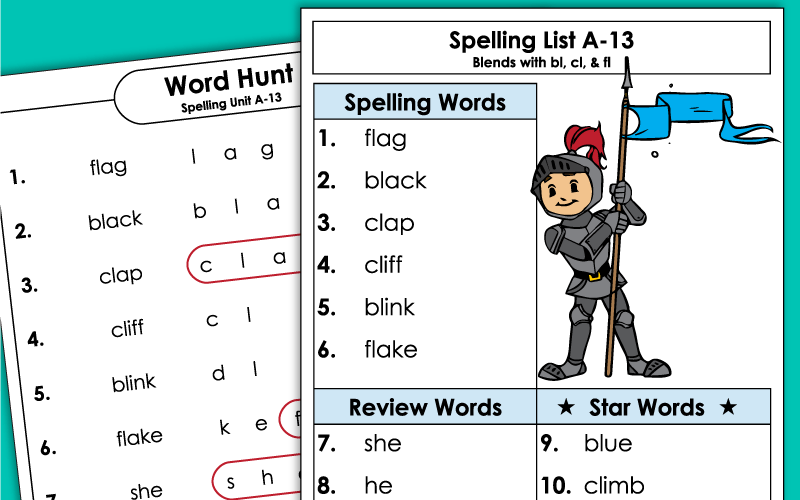 These words all have consonant blends: flag, clap, black, cliff, flake, and blink.
1st Grade
Students answer questions about their spelling words in this printable spelling exercise for first graders.
1st Grade
Children will fill in the blank using a spelling word from the word box provided. An answer key is included with this printable spelling activity.
1st Grade
For this activity, students will unscramble the mixed-up spelling words.
1st Grade
This worksheet has 25 word cards with the 10 spelling words on them that can be cut out and arranged into sentences.
1st Grade
Unscramble the sentences. For example: "see flag? the Can you" is unscrambled to read "Can you see the flag?"
1st Grade
On the primary-ruled lines, carefully write each spelling word two times in your best handwriting.
1st Grade
Carefully hunt for words in the rows of letters.
1st Grade
First, assemble the spelling word wheel. Then spin the wheel to see the words. Ask a friend to spell the words.
1st Grade
Ten printable flashcards go along with this week's spelling words. Use them to help your students learn their spelling words.
1st Grade
Print, cut, and compile this airplane-shaped word slider which highlights the words from Spelling Unit A-13. (Click the ALT button for a full color version.)
1st Grade
Cut out the bl, cl, and fl spelling words. The arrange them alphabetically and paste them onto the paper.
1st Grade
Write all ten spelling words in alphabetic order on the primary-ruled lines.
1st Grade
On this page, students will write each spelling word as their teacher reads it aloud.
1st Grade
This page has sentences that the teacher can real aloud when giving the unit thirteen assessment.
Click here for a comprehensive list of our spelling series for grade 1 students.
Spelling Unit A-14
Students will be working with consonant blends again this week. This list has gl, pl, and sl words. Glad, play, plot, slam, glass, and sled.
Level A Spelling
Access all thirty 1st grade spelling units from this page.