1st Grade Spelling Unit A-10
First grade spelling, unit 10 features more long-i words. This time, the words are spelled with just the letters i or y. Hi, sky, fly, my, by, I, try, and cry. Review (from A-8): like and nine.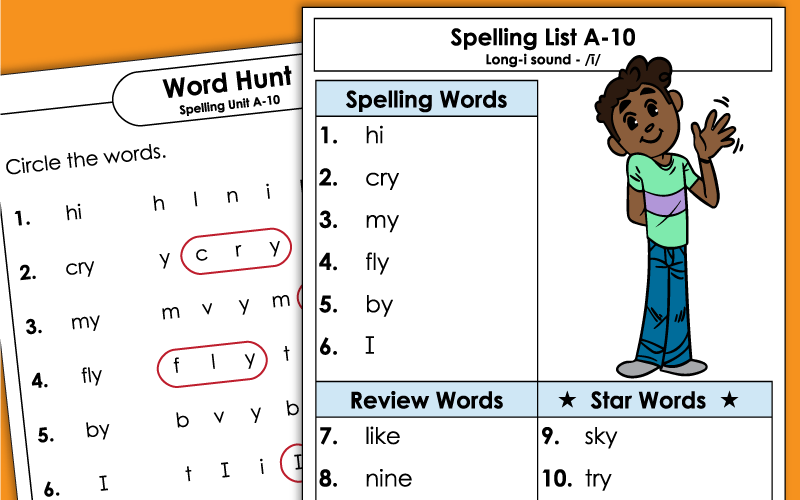 Words for this week have the long-i sound. In these words, the long-i is spelled with a Y or an I. List: by, I fly, cry, hi, I, my, sky, and try.
1st Grade
In this spelling worksheet, students will answer questions about their Unit A spelling words. Which two words have an L in them? Write the word that begins with B.
1st Grade
Complete each sentence with a spelling word. This activity does not include bonus or review words.
1st Grade
This worksheet contains four sentences. Each sentence has one or two spelling words within it. The words are out of order. Students must place the words in correct order to reveal each sentence.
1st Grade
Unscramble this weeks spelling, review, and star words. Write the unscrambled word on the lines provided.
1st Grade
Arrange the word cards to make complete sentences. This file has 25 word cards, 10 of which are spelling words from this unit.
1st Grade
On the primary-ruled lines, students will write each spelling word two times each.
1st Grade
Look carefully at each row of letters. Can you find a hidden spelling word?
1st Grade
Your students will love playing a spelling review game with this word wheel. The first player spins the wheel to see a spelling word. The second player tries to spell the word.
1st Grade
Help your students make the most of their study time with these printable flashcards. Use the spelling flashcards for individual review or group review.
1st Grade
Print out this fish-shaped word slider so your students can have another fun way to practice learning Unit A-10 spelling words. (Color version available with the ALT button below.)
1st Grade
Cut along the dotted lines to separate the spelling word cards. Place each word card in alphabetical order and glue it onto the sheet provided.
1st Grade
Write each of these long-i words in alphabetical order on the primary-ruled lines.
1st Grade
Use this template when giving your unit 10 spelling assessment.
1st Grade
This PDF file has sentences you can read when administering your Friday test.
1st Grade
A complete list of all 450 spelling words in our first grade spelling series.
1st Grade
A-11 Spelling Unit
This week's list features the words she, we, he, me, be, ski. All words have the long-e sound, spelled with e or i. Star words are mini and taxi.
Index Spelling Level A (Grade 1)
Click this link to see an index of all of the units for first grade spelling.