1st Grade Spelling List A-11
This week's list features the words she, we, he, me, be, ski. All words have the long-e sound, spelled with e or i. Star words are mini and taxi.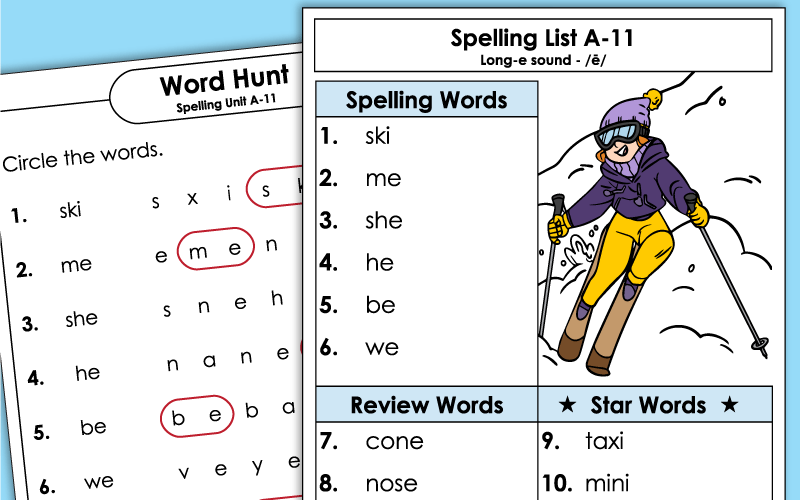 Words in this spelling list have the long-e sound. List includes the words: ski, me, taxi, he, be, she, and we.
1st Grade
Students answer questions about their weekly spelling words in this printable spelling activity.
1st Grade
Finish the sentences by writing spelling words on the blank lines.
1st Grade
Unscramble the words to build complete sentences. Each sentences has 1 or 2 spelling words in it. Example: "ski down She hill will the" becomes "She will ski down the hill."
1st Grade
Unscramble each of your spelling words in this activity.
1st Grade
Cut out the word cards. Arrange them on the table to make complete sentences. Includes 25 word cards, 10 of which are spelling words.
1st Grade
On this printable worksheet, your students will write each of this week's spelling words two times.
1st Grade
Each row in this horizontal word hunt has a spelling word hidden in it.
1st Grade
Review unit 11 spelling words with this two-player game. After assembling the word wheel, students take turns spinning the wheel to reveal spelling words. Their partner then tries to spell the word.
1st Grade
Spelling flashcards are very helpful for learning and studying. Have your students practice their spelling words with these printable spelling flashcards.
1st Grade
Cut out the penguin and word strip on the dotted lines. Thread the strip through the slots in the belly and slide it up and down to read different words from the A-11 spelling list. (Click on the ALT button below for a full color version.)
1st Grade
Cut out the long-i words and arrange them in alphabetical order on this page.
1st Grade
Students neatly print their unit eleven spelling words in ABC order on this page.
1st Grade
This PDF has ten primary-ruled spaces for your students to write their spelling words. There's a picture of a snow skier at the top.
1st Grade
Read these sentences out loud to your students as they take their spelling test for this unit.
1st Grade
A collection of all units for Grade 1 spelling including Units 1-30, holidays, and themes.
Unit A-12 Spelling
Unit A-12 in the STW spelling series features more first grade sight words. The following words are on this list: from, come, one, all, most, what. Star words: was and said.
1st Grade Spelling Series
List of all of our Level A spelling units.