This page has printable Social Studies worksheets and resources for teaching students about World War II.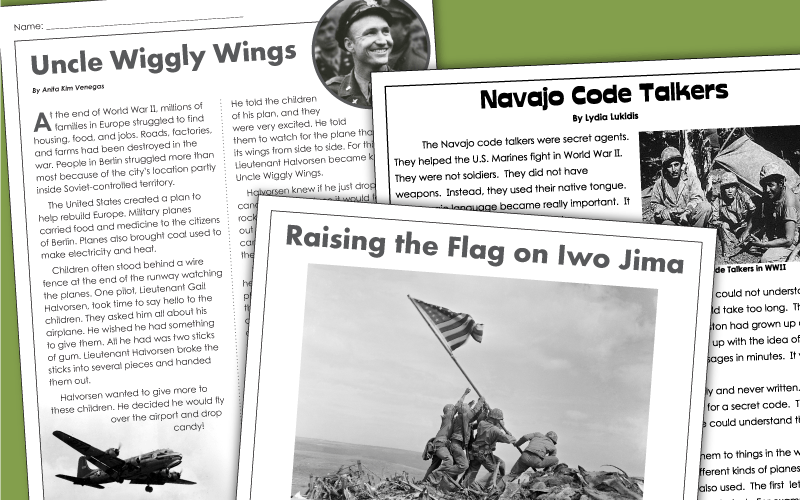 Students will view Joe Rosenthal's famous photograph, Raising the Flag on Iwo Jima, and use their research skills to find answers to questions about the photo.
5th through 8th Grades

Logged in members can use the Super Teacher Worksheets filing cabinet to save their favorite worksheets.
Quickly access your most used files AND your custom generated worksheets!
Please login to your account or become a member and join our community today to utilize this helpful feature.

This non-fiction article explains how Navajo secret agents used their unique language to help the United States Marines during World War II. Following that article is a page of reading comprehension questions, a vocabulary activity, and a writing prompt.
5th through 8th Grades
This article tells about the 99th Fighter Squadron, also known as the Tuskegee Airmen, an important unit in World War II. Reading comprehension questions help reinforce key concepts from the article and encourage critical thinking.
7th Grade
This article teaches students about Lieutenant Gail Halvorsen, an air force pilot who dropped candy from his plane for children in Berlin during the rebuilding of Europe following World War II.
5th through 8th Grades
More Social Studies Worksheets
STW has printable worksheets covering a variety of Social Studies topics, including the American Revolution, Colonial America, the 50 States, explorers, map skills, US Presidents, and much more.