Place Value: 5 Digits (Ten Thousands)
Worksheets for teaching place value of 5-digit numbers. Use these resources to learn about writing numbers in expanded form, ordering numbers from least to greatest, reading large numbers, placing commas in numbers, and determining the values of underlined digits.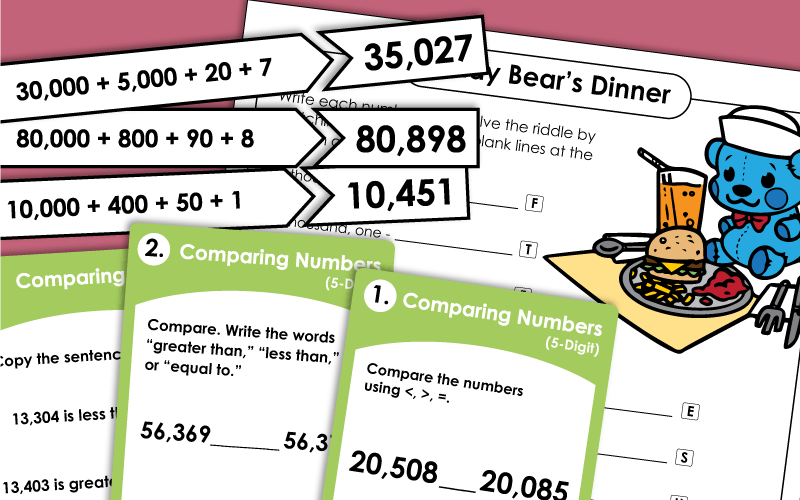 Students cut the five-digit number cards and lay them out on their desk in order from least to greatest.
3rd through 5th Grades
Arrange the each of the numbers in the order, from the least to the greatest.
3rd and 4th Grades
Use mathematical symbols <, >, and = to compare the values of the given numbers. This worksheet also includes word problems.
3rd through 5th Grades
This file has 30 task cards for comparing 5-digit numbers. These can be used for classroom games, with your document camera, for small-group instruction, or for learning centers.
3rd through 5th Grades
Teachers score students as they read aloud these 5-digit numbers on the included score sheets.
3rd through 5th Grades
How many of these 5-digit numbers can your students correctly say?
3rd through 5th Grades
Spin the number wheel and read each number aloud to a teacher, classmate, or parent.
3rd through 5th Grades
6-Digit Place Value
Review 6-digit place value with these games, worksheets, and lessons.