Pie Graphs (Circle Graphs)
This page has several pie graph worksheets. The "Basic Pie Graphs" require students to have a basic understanding of fractions. The "Advanced Pie Graphs" require students to understand percentages./p>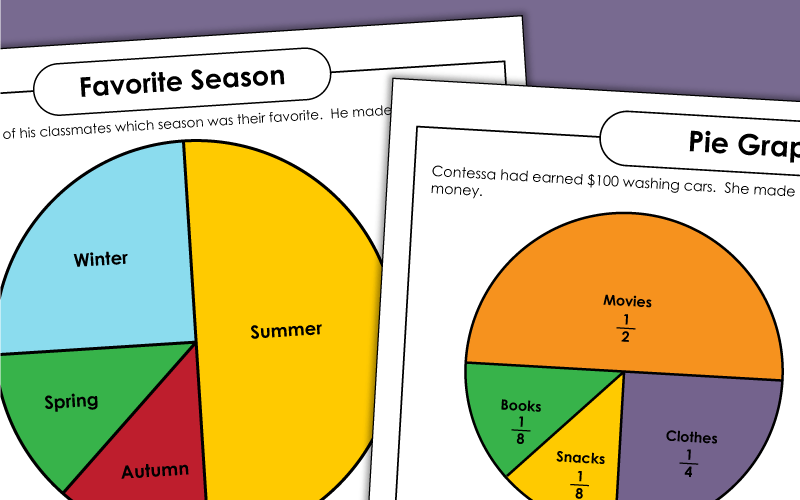 Use the information in the summer camp pie graph to answer the questions. Requires knowledge of fractions.
(Approx. grade levels 2-4)
4th through 6th Grades




Logged in members can use the Super Teacher Worksheets filing cabinet to save their favorite worksheets.
Quickly access your most used files AND your custom generated worksheets!
Please login to your account or become a member and join our community today to utilize this helpful feature.

Use the data from the table to make a sports circle graph.
4th through 6th Grades
Pie graph shows the various methods of transportation students used to get to school; Requires basic understanding of fractions
3rd through 5th Grades
Pie graph shows students' field trip preferences; Requires knowledge of percentages and fractions
4th through 7th Grades
Pie graph shows students' favorite seasons; Requires knowledge of percentages and fractions
3rd through 6th Grades
Pie graph shows how Contessa spends her money; Requires knowledge of percentages and fractions
3rd through 6th Grades
Pictograph Worksheets
The worksheets on this page contain picture graphs with symbols
Bar Graph Worksheets
Printable bar graph worksheets with questions
Line Graph Worksheets
A collection basic, intermediate, and advanced of line graph worksheets