Three-Letter Consonant Blend: THR
The worksheets and activities on this page are printable and they highlight words with the three-letter consonant blend THR. Your students will learn words like throne, three, throat, throw, thrill, and through.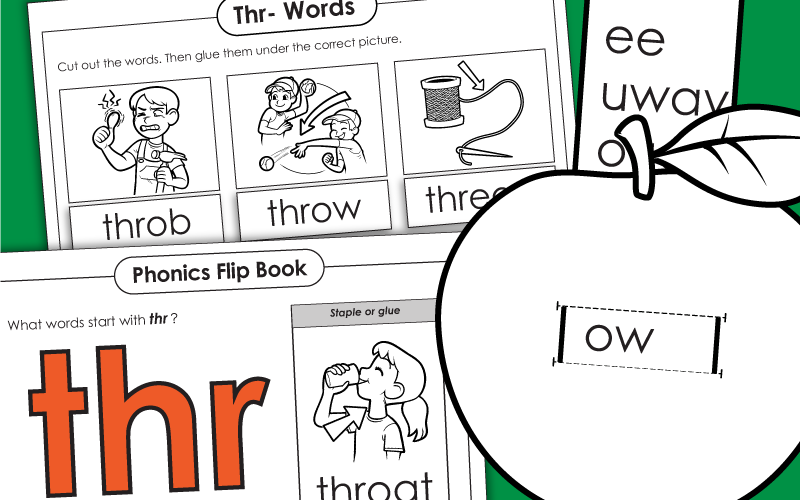 There are many different ways you can use the cards in this file. There are 2 cards for each of the 9 /thr/ words used. One card has a picture while the other has the word, leaving lots of possibilities for various kinds of matching activities.
1st and 2nd Grades
Students can practice building sentences with this printout. Have them cut out the words and arrange them into sentences using at least one /thr/ word per sentence. They can then write the sentences on the primary-ruled lines. Laminate the word cards for a learning center activity you can reuse again and again.
1st and 2nd Grades
Set out the letter stampers and have students practice spelling each /thr/ word with them.
1st and 2nd Grades
Have your students cut out these flash cards and use them to familiarize themselves with /thr/ words such as three, throw, thrill, and more.
1st and 2nd Grades
Make an apple-shaped word slider to review /thr/ words. Just cut the apple and word strip out, cut along the dotted lines, and weave the word strip through to reveal one word at a time.
1st and 2nd Grades
Print this file out on card stock to make a sturdy word wheel that can be used over and over again to practice /thr/ words.
1st and 2nd Grades
Phonics Worksheets
This page has links to our full collection of phonics worksheets.
Fry Instant Sight Words
We have a variety of worksheets on Fry sight words broken down by level.