These worksheets feature words with the consonant blend ST.  Students will learn to read words like: start, stop, steep, stool, stem, and stand.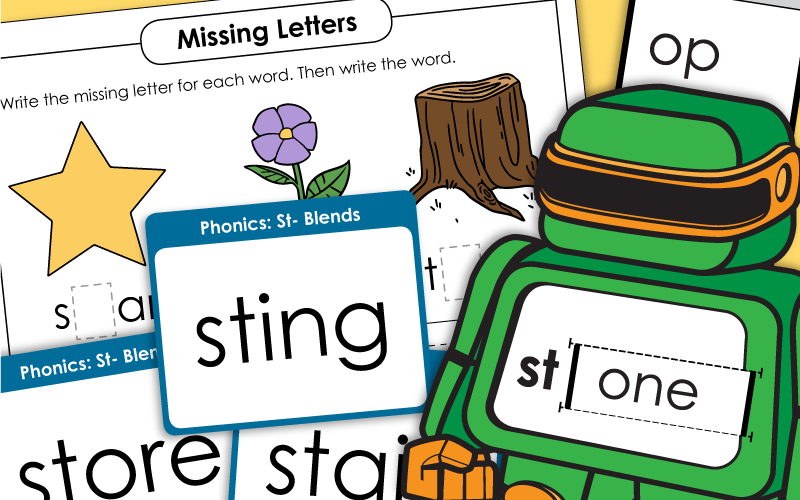 These phonics cards featuring words that start with ST can be used for several different activities including a memory match game.
1st Grade
Sort the ST words into three different groups.
1st Grade
Sort the picture and words cards into three groups: ST, SN, and SH.
1st Grade
Use scissors to cut out these 25 word cards. They can be arranged in many ways to make different sentences. Use the lines on the second page to write the sentences you make.
1st Grade
Use letter stampers to make ST words. Words featured: stay, stamps, stick, storm, and stop.
1st Grade
Print out these flashcards that feature ST words. Use them to memorize the words or play games with them.
1st Grade
Students can use this robot-themed words slider to practice reading and recognizing words that begin with ST.
1st Grade
Use card-stock to print this word wheel on and a paper fastener to attach the two cut out wheels together. As you spin the wheel, you can read the words that start with ST: stop, star, step, stem, stick, store, stone, and sting.
1st Grade
Phonics Worksheets
Our full phonics worksheet index can be found on this page.
SN Blends
These worksheets feature SN words, like snail, snip, and snap.
Dolch Sight Words
Use these printables to practice basic sight words.