Three-Letter Consonant Blend: SHR
The worksheets on this page feature words that have the three-letter consonant blend SHR. Your students will learn to read and write words like shrug, shrink, shred, shrub, and shrill.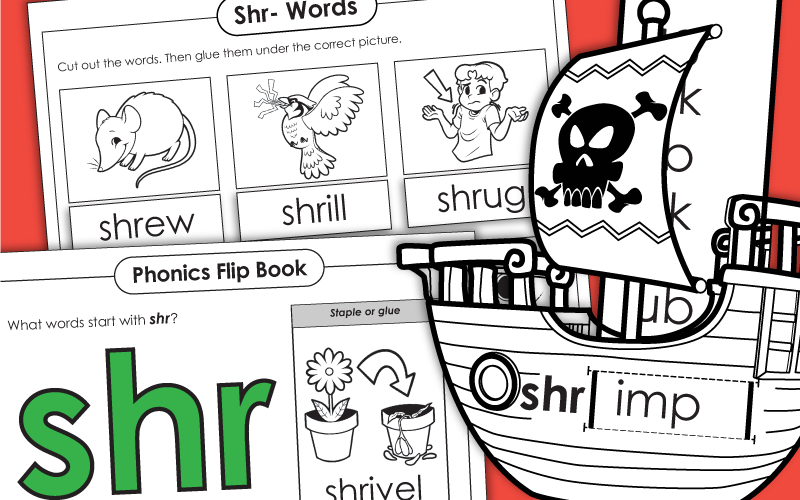 This printable card game set is perfect for memory match games, as well as other phonics practice games. Each card either has a /shr/ word written on it or a picture showing a /shr/ word.
1st and 2nd Grades
With this worksheet, students will cut out 25 words and arrange them to make sentences, aiming to use at least one /shr/ word per sentence. Then they will write the sentences on the primary-ruled lines provided.
1st and 2nd Grades
Set up letter stampers for your students to spell out each /shr/ word in the box next to the typed word.
1st and 2nd Grades
Practice /shr/ blend words with this set of flash cards.
1st and 2nd Grades
Students will cut and color this pirate ship word slider. Then they can practice reading and saying each of the /shr/ words shown.
1st and 2nd Grades
Use this word wheel with your students to help them practice reading various /shr/ words. Words include shrug, shrink, shrew, and more!
1st and 2nd Grades
Phonics Worksheets
View our full collection of phonics printables here, with worksheets on letter sounds, blends, word patterns, and more!
Fry Instant Sight Words
This page has flash cards, word wheels, checklists, and more worksheets for learning and practicing Fry sight words.