Use these printable worksheets to teach students about the American flag, the bald eagle, the Great Seal of the United States, and other patriotic symbols.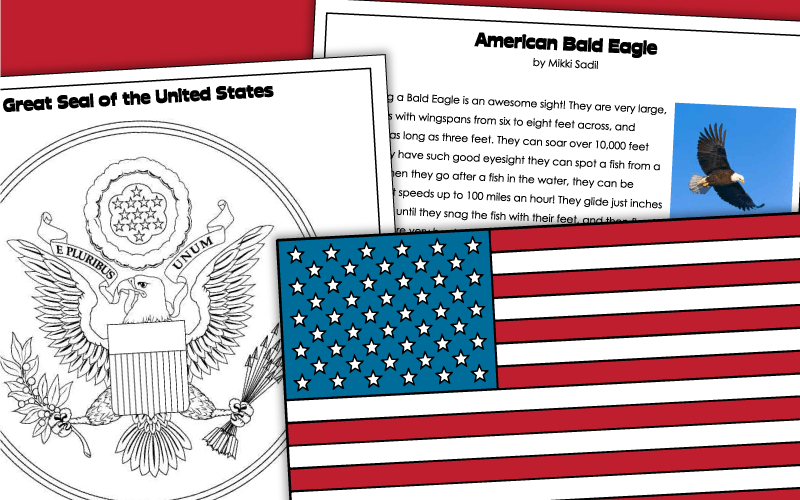 Learn about the symbolism in the design of the American flag. Color the flag correctly.

Logged in members can use the Super Teacher Worksheets filing cabinet to save their favorite worksheets.
Quickly access your most used files AND your custom generated worksheets!
Please login to your account or become a member and join our community today to utilize this helpful feature.

Use words from the word bank to complete each sentence about the US flag.
2nd through 4th Grades
This is a large outline picture of the American flag. Color "Old Glory" using the correct colors in the correct areas.
This fun, rhyming poem will remind kids about the symbolism of the American flag.
1st through 4th Grades
This non-fiction reading comprehension passage includes many facts about the American Bald Eagle. A question page and vocabulary worksheet are also included.
4th and 5th Grades
With this maze, you'll find your way through an image of a bald eagle.
Read about the symbolism on the Great Seal of the United States. Includes facts about the olive branch, arrows, stars, and crest.
2nd through 4th Grades
Design a new seal to represent the United States of America. Use patriotic symbols. Describe your design.
2nd through 4th Grades
The Statue of Liberty is one of the most well-known U.S. landmarks in our country. This passage describes how it was built and gifted to the United States.
5th Grade
This article describes the many unique symbols on a one-dollar bill. Includes comprehension questions.
4th through 6th Grades