Here you'll find basic multiplication facts up to 7, as well as worksheets with only 7s. We also have skip counting practice sheets as well.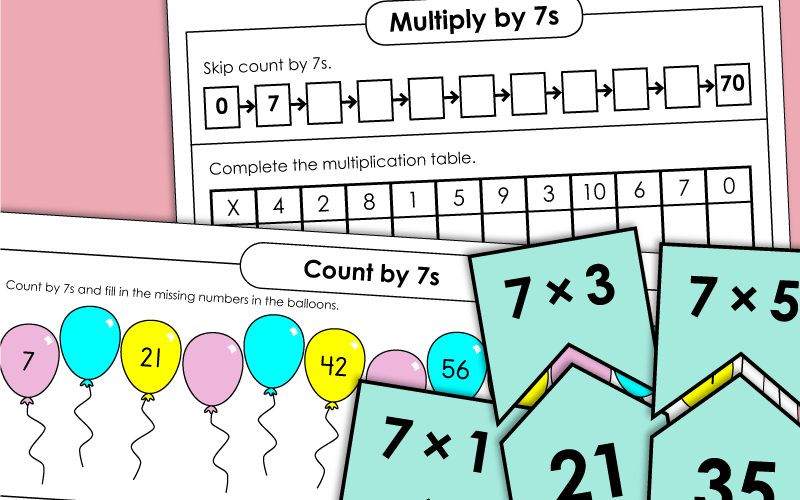 On this drill worksheet, your students will review multiplication facts with factors of 0, 1, 2, 3, 4, 5, 6, and 7. Facts through 10s, up to 7x10.
3rd and 4th Grades
This drill worksheet has all basic facts for multiplying by 0, 1, 2, 3, 4, 5, 6, and 7. Facts include 11s and 12s, up to 7x12.
3rd and 4th Grades
This timed quiz has 50 problems on it. Covers all basic facts for 0s, 1s, 2s, 3s, 4s, 5s, 6s, and 7s. Facts through 12, up to 7x12.
3rd and 4th Grades
Multiplication Basic Facts: 0-10
Here you'll find lots more multiplication worksheets, games, and activities for all basic facts up to 10x10.
Multiplication/Division
Fact Families
This page has lots of worksheets with multiplication and division fact families.
Multiplication by 3s
Basic facts with factors of 3 are the focus on these printable learning resources.
Multiplication by 4s
These worksheets focus specifically on the 4s times tables.
Multiplication by 5s
Here are the activities for learning multiplication facts from 5x0 up to 5x12.
Multiplication by 6s
These worksheets will help your kids master basic multiplication with 6 as a factor.
Multiplication by 8s
Practice multiplying by the number 8. Includes mystery pictures, skip counting lessons, and more.
Multiplication by 9s
Use these learning resources to help your students master the 9s times tables.