Comparing and Ordering Fractions
Compare and order fractions and mixed numbers. Includes "greater than," "less than," and "equal to" symbols. This page has printable task cards, learning center games, and worksheets.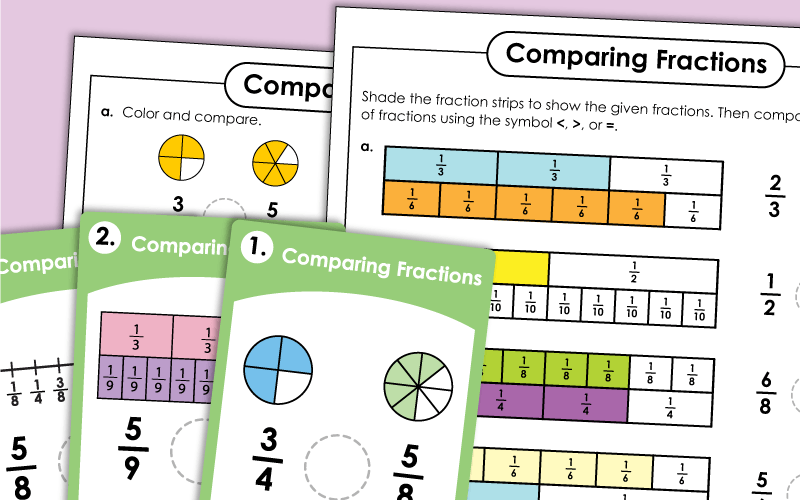 Cut out the fraction cards and lay them on the table. Then arrange the fraction cards on the table from least to greatest. This activity works well as a learning center or small group activity.
4th and 5th Grades
The dancing pigs have fractions on them. Cut out the pigs and place them in order from least to greatest.
3rd through 5th Grades
Cut out the mixed number game cards. Lay them out in a row, from least to greatest. Use this activity for cooperative learning activities, independent practice, or as a learning center.
3rd through 5th Grades
This chart shows order of fractions, equivalent fractions, and simplest form. Use for comparing, ordering, and simplifying common fractions with denominators up to 12.
3rd through 5th Grades
Fraction Worksheets
Learn about equivalent fractions, simplifying fractions, and fractions of sets. There are also links to fraction addition, multiplication, subtraction, and division.
Mixed Numbers
Learn all about mixed numbers with these printable lesson activities.
Comparing Numbers
From this index page, you can jump to worksheets on comparing 4-digit numbers, 5-digit numbers, or 6-digit numbers. Also includes links to STW resources on comparing decimals and money.
Comparing Decimals
Here are some learning resources for teaching ordering and comparing of decimal numbers.