On these printable worksheets, student will learn the concept of a unit rate, and they will practice solving word problems related to linear measurement, constant speed, and pricing. These math activities align closely with the following Common Core Standards: CCSS.6.RP.A.2, CCSS.6.RP.A.3.B, and CCSS.7.RP.A.1.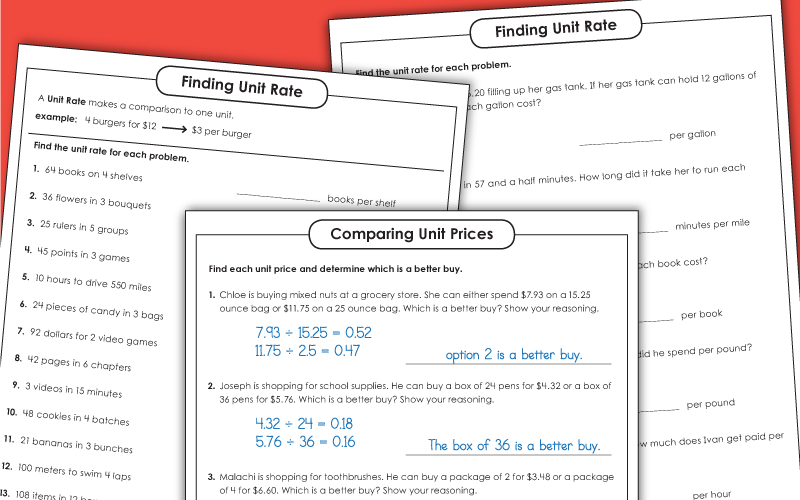 Find the unit rate for each group. 15 questions on this page. Example: 4 burgers for $12 -> $3 per burger.
6th and 7th Grades




Logged in members can use the Super Teacher Worksheets filing cabinet to save their favorite worksheets.
Quickly access your most used files AND your custom generated worksheets!
Please login to your account or become a member and join our community today to utilize this helpful feature.

Read each word problem. Find the unit rate. This basic-level worksheet does not include decimals.
6th and 7th Grades
Determine the unit rate for each problem. This intermediate version includes decimals and fractions.
6th and 7th Grades
Calculate the unit price for each word problem. Then determine which is the better buy.
6th and 7th Grades
More Middle School Math Topics
On Super Teacher Worksheets, you'll find lots of worksheets for teaching pre-algebra, algebra, box plots, inequalities, slope, surface area, volume, and much more.