Below you will find an assortment of labeled and blank maps, games, activities, and puzzles for teaching your class about the Northeastern State of Vermont.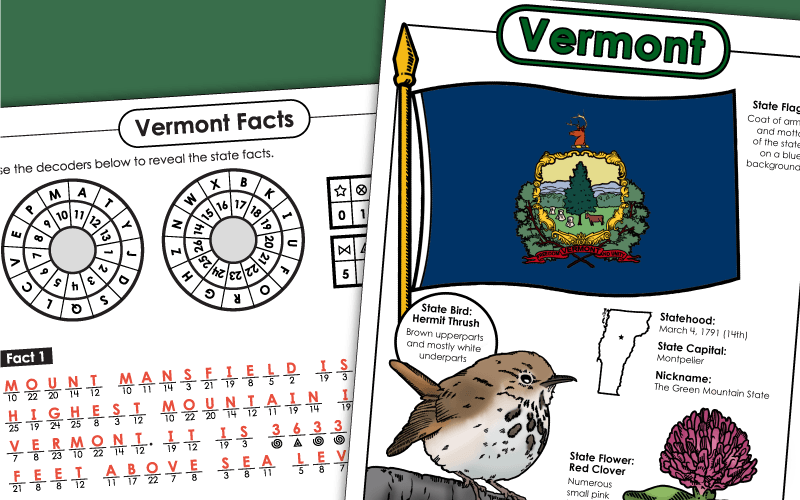 Color the official Vermont state flag, bird, and flower. The flag features the state motto and coat of arms on a blue background. The state flower is the Red Clover and the state bird is the Hermit Thrush.
3rd through 5th Grades

Logged in members can use the Super Teacher Worksheets filing cabinet to save their favorite worksheets.
Quickly access your most used files AND your custom generated worksheets!
Please login to your account or become a member and join our community today to utilize this helpful feature.

This file is a printable color map of Vermont. It is labeled with cities, bodies of water, and neighboring states. There is also a section highlighting the state bird, flower, and tree.
4th and 5th Grades
Students label and color this blank map of Vermont.
This Vermont map has dots for cities of Bennington, Burlington, and Montpelier. Students write the names of the cities and bodies of water, then color the map according to the instructions.
This Vermont map includes the labels for Montpelier, Bennington, and Burlington. This map also shows Connecticut River, Lake Champlain, and Lake Memphremagog.
This blank map of Vermont does not include bordering states.
Use this printable page to show students the Vermont flag.
3rd through 5th Grades
Vermont's flag features a nature scene. Help students commit what it looks like to memory by having them color it in.
3rd through 5th Grades
This page can be printed and hung in the classroom or handed out to students to show them what the Vermont state seal looks like.
3rd through 5th Grades
Familiarize your students with Vermont's state seal by having them color in this outline.
3rd through 5th Grades
Learn about the state bird and flower of the State of Vermont after solving this cryptogram puzzle.
4th and 5th Grades
Solve this word search to find the words horizontally, vertically, and diagonally. All of the words in this puzzle are Vermont-themed, including: Stowe, red clover, Mount Mansfield, Montpelier, maple syrup, Lake Champlain, green mountain state, granite, and Burlington.
3rd through 6th Grades
Students in your social studies class will have fun unscrambling these words to find different symbols and important geographic points for the state of Vermont.
3rd through 6th Grades
She's got her skis packed in the trunk and she's ready to hit the slopes on the Green Mountains. While she's here, she'll need to try the famous maple syrup too.
4th through 6th Grades
Have your students figure out which state is shown on this worksheet, using a map of the USA if necessary and then answer the questions at the bottom.
4th and 5th Grades
Complete Index of 50 US States
This page serves as an index of all fifty of the US States and the pages for each.
50 States and Capitals
Maps, games, and other worksheets are available to print from this page when teaching your students about the fifty states and their capitals.
Index - Social Studies
Check out our complete listing of our social studies topics here.