The worksheets you will find below include blank and labeled maps, fact sheets, mystery pictures, puzzles, and other activities highlighting the State of Texas.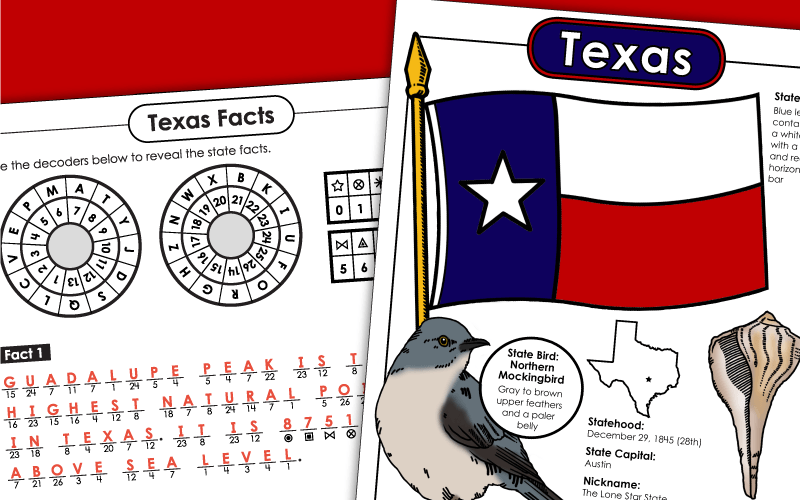 Did you know that Texas is the second-largest state in the USA? By solving this cryptogram puzzle, your students will find that out.
4th and 5th Grades
Students will search through the jumbled letters in the box to find words like: Houston, oil, Fort Worth, and Mockingbird.
3rd through 6th Grades
Test your students to unscramble these words related to the state of Texas. Some of the words are state symbols and others are geographical landmarks.
3rd through 6th Grades
Penelope pulls into the Lone Star Oil Change Shop and gets directions to Galveston.
4th through 6th Grades
You probably don't need a map to figure out which state this worksheets is about but can use one if needed. Then answer the questions at the bottom.
4th and 5th Grades
This short reading comprehension passage has information on Juneteenth, a U.S. federal holiday that originated in Galveston, Texas.
4th through 6th Grades
Desert cottontails can be found in some of the dry, dusty parts of Texas. With this worksheet, students will read all about the animals and answer several comprehension questions based on the reading.
4th Grade
List of 50 States
Find all your printable worksheets for US states separated onto their own pages within this index listing.
50 States and Capitals
Your students will learn all about the capitals of the fifty states with these printables.
Social Studies - Index
Your students will learn about the branches of US government, American history, and other topics with the printable worksheets found from this index.