Below you will find a number of puzzles, activities, maps, and worksheets for instructing your students about the State of Nebraska.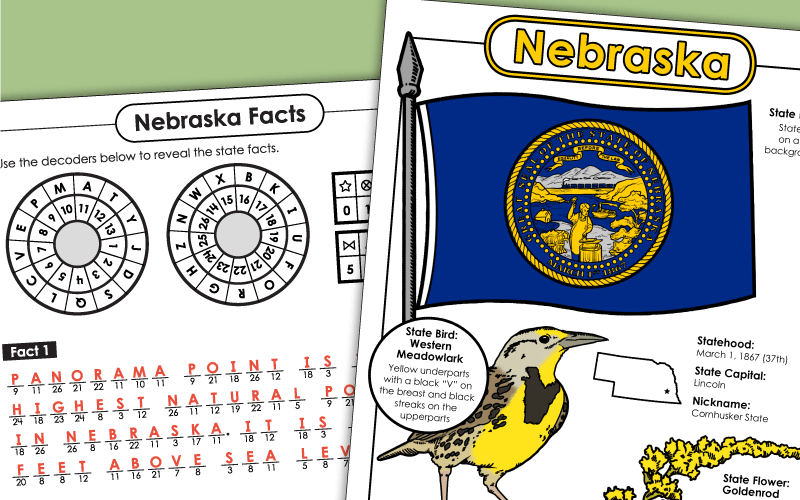 This printable is a coloring activity for students to learn about the state flower, state flag, and state bird of Nebraska.
3rd through 5th Grades

Logged in members can use the Super Teacher Worksheets filing cabinet to save their favorite worksheets.
Quickly access your most used files AND your custom generated worksheets!
Please login to your account or become a member and join our community today to utilize this helpful feature.

Learn all about the geography of the state of Nebraska with this printable color map. Large cities, rivers, and neighboring states are labeled.
4th and 5th Grades
Color this map of Nebraska. Then add and label the major cities and bodies of water.
Label the major cities on this Nebraska map, including Lincoln, Columbus, Fremont, Grand Island, and Omaha. Then color and complete the map according to the instructions on the second page.
This Nebraska map includes the labels for major cities, bordering states, and rivers.
This blank map of Nebraska does not show the bordering states.
Dr. Susan La Flesche-Picotte was the first native American woman to earn a medical degree. She selflessly served the Omaha tribe in Nebraska. Read this interesting biographical passage and answer the questions that follow.
5th and 6th Grades
Print this out and show your students what the Nebraska state flag looks like.
3rd through 5th Grades
Students learning about Nebraska can color in this black-and-white outline of the state's flag.
3rd through 5th Grades
Nebraska's state seal is blue and gold. Print out this full-color version of it to show your students.
3rd through 5th Grades
This black-and-white version of the Nebraska state seal makes for a great coloring activity.
3rd through 5th Grades
This puzzle will reveal that the honeybee is the state insect of Nebraska and that the state bird is the Western Meadowlark.
4th and 5th Grades
Hunt for hidden words in this puzzle. Search for: Chimney Rock, agriculture, beef, goldenrod, Great Plains, Cornhusker State, Lincoln, Omaha, Platte River, and Western Meadowlark.
3rd through 5th Grades
Rearrange the scrambled up letters to reveal these Nebraska-themed words. Find the largest city, state nickname, bordering river, and several others.
3rd through 6th Grades
Penelope learns that Kool-Aid was invented in the Cornhusker State. She's on her way to Omaha and Lincoln.
4th through 6th Grades
Your students can use a map of the USA to figure out which state is shown on this worksheet and then write down the state capital, state bird and flower, and bordering states below it.
4th and 5th Grades
50 States Index
Find any of the fifty states on this page, which will lead you to printable worksheets, maps, and activities for each one.
50 States and Capitals
Maps, games, and other worksheets are available to print from this page when teaching your students about the fifty states and their capitals.
Social Studies - Full List
Find worksheets to enhance your social studies lesson from the selection found on this index.