Your students will learn many facts about the State of Georgia when you use these printable maps, puzzles, and worksheets.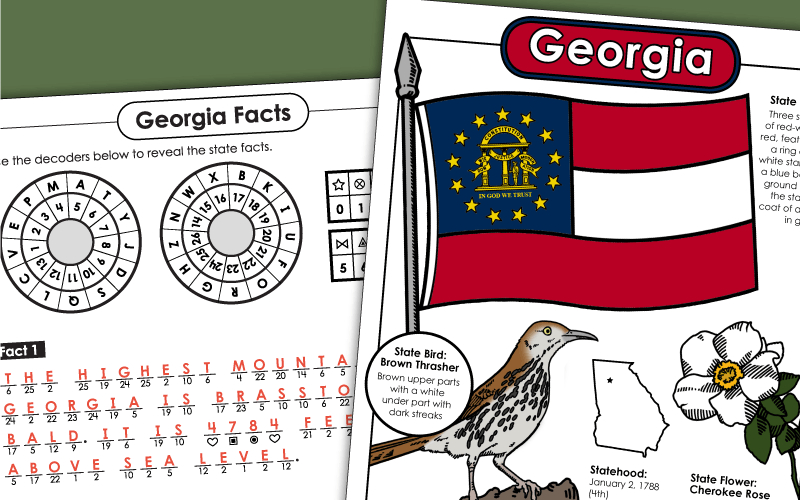 This printable is a coloring activity for students to learn about the state flower, state flag, and state bird of Georgia.
3rd through 5th Grades

Logged in members can use the Super Teacher Worksheets filing cabinet to save their favorite worksheets.
Quickly access your most used files AND your custom generated worksheets!
Please login to your account or become a member and join our community today to utilize this helpful feature.

Your students will love this colorful, labeled map of Georgia. You can find the capital, Atlanta, as well as several rivers, reservoirs, lakes, and neighboring states.
4th and 5th Grades
Print of this blank map of Georgia for your students to label when you are teaching them about the State of Georgia.
4th and 5th Grades
This map of Georgia has all of the prominent cities and bodies of water labeled.
4th and 5th Grades
This map of Georgia is blank and does not have any neighboring states or bodies of water drawn.
4th and 5th Grades
Use this printable map to have your students label cities such as Atlanta, Savannah, and Macon, and label bodies of water such as the Atlantic Ocean, Chattahoochee River, and Lake Sinclair.
4th and 5th Grades
Here is a short biographical piece on one of Georgia's most famous native residents, Dr. Martin Luther King Jr. Read the passage and answer the questions that follow.
4th and 5th Grades
Show students what the flag of the state of Georgia looks like with this printable PDF.
3rd through 5th Grades
Coloring in the Georgia flag is a great supplemental activity for students learning about this state.
3rd through 5th Grades
The Georgia state seal features an arch with three columns, along with the words "wisdom," "justice," and "moderation." Show students what it looks like with this printout.

3rd through 5th Grades
Color in the Georgia state seal with this worksheet.
3rd through 5th Grades
Students will learn about the highest mountain in Georgia as well as the state flower and bird by solving this puzzle.
4th and 5th Grades
In this puzzle, students hunt for words such as: Savannah, peach state, Lookout Mountain, Live Oak, Cherokee Rose, and Brown Thrasher.
3rd through 6th Grades
Have your students solve these scrambled word puzzles to reveal important geographical features and state symbols for Georgia.
3rd through 6th Grades
Did you know Coca-Cola was invented in the Peach State? Help Penelope figure out what state she's visiting.
4th through 6th Grades
Students can use a map of the USA to find out which state is pictured on this worksheet and then write the answers to the questions on the bottom.
4th and 5th Grades
Full List of 50 States
Looking for state maps and worksheets? Find any of the fifty states on this page.
50 States and Capitals
Your students will learn all about the capitals of the fifty states with these printables.
Social Studies Topics
We have a large selection of Social Studies topics, including landforms, continents, economics, Native Americans, explorers, American Revolution, Colonial America, and more.