Below you will find an array of worksheets, activities, games, and puzzles for teaching your students about the sunny State of Florida.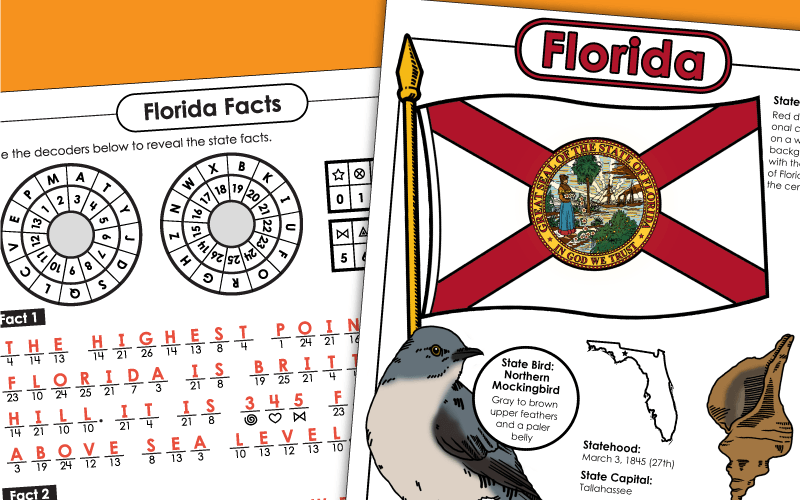 Students will color in the state bird, shell, and state flag of Florida on this worksheet.
3rd through 5th Grades

Logged in members can use the Super Teacher Worksheets filing cabinet to save their favorite worksheets.
Quickly access your most used files AND your custom generated worksheets!
Please login to your account or become a member and join our community today to utilize this helpful feature.

When your students are learning about the state of Florida, print out this map to go along with your lesson. Labeled on this map are prominent cities, rivers, bays, and neighboring states.
4th and 5th Grades
This unlabeled map of Florida is perfect to have your students use to mark down large cities, landmarks, and bodies of water.
4th and 5th Grades
On this labeled map of Florida, your class will learn the locations of Orlando, Miami, Tallahassee, Lake Okeechobee, and the Gulf of Mexico.
4th and 5th Grades
This map of Florida is blank without any bordering bodies of water or states.
4th and 5th Grades
Students will label sixteen cities, twelve bodies of water, and two bordering states on this Florida map.
4th and 5th Grades
Show students what the Florida flag looks like with this printable page.
3rd through 5th Grades
Find the correct shades to color in Florida's flag!
3rd through 5th Grades
Print out this full-color version of the Florida state seal to show students.
3rd through 5th Grades
This black-and-white version of the Florida state seal can be used as a coloring activity or to hang in the classroom.
3rd through 5th Grades
Read all about Florida's official state animal, the Florida Panther, in this article. The worksheet features reading comprehension questions, a vocabulary exercise, and a writing prompt.
5th Grade
Challenge your students to find the solution to this printable Florida-themed cryptogram puzzle.
4th and 5th Grades
Solve this word search to find the words horizontally, vertically, and diagonally. All of the words in this puzzle are Florida-themed, including: Palm Trees, citrus, beaches, and Miami.
3rd through 6th Grades
Print out this fun word scramble for a social studies activity for the state of Florida. Find out the bordering body of water, state shell, highest point, and other state symbols.
3rd through 6th Grades
While searching for the beach, Miss Peabody finds herself in the Everglades - and there are alligators everywhere! Hopefully she's not eaten by the alligators.
4th through 6th Grades
This state may be pretty to easy to guess by the shape but students can use a map of the USA if they need to. Also, write down the name of the state capital, state nickname, state flower, and bordering states on the bottom.
4th and 5th Grades
Complete List of State Pages
To find worksheets for any US state, just click this link to find a full listing of all of the state pages.
50 States and Capitals
This page has maps, longitude and latitude worksheets, games, and more featuring the states and capitals.
Social Studies Topics
Find worksheets to boost your social studies lesson from the array found on this index.